Tomorrow, the Ghana Black Stars are set to confront Comoros in their second qualifying match for the 2026 FIFA World Cup, scheduled to take place in the USA, Canada, and Mexico.
The anticipation among football enthusiasts is notably high, and for many supporters, the Black Stars' qualification holds particular significance.
Numerous fans express a strong desire to see the Black Stars secure a spot in the World Cup, primarily for one reason.
According to some supporters, the qualification of the Black Stars presents a seemingly straightforward avenue for them to immigrate to their desired destination, the United States.
 This sentiment was visibly conveyed by a supporter who prominently displayed a placard at the Kumasi Sports Stadium during the recent match against Madagascar, which concluded with a 1-0 victory for the Black Stars.
The placard's message was clear: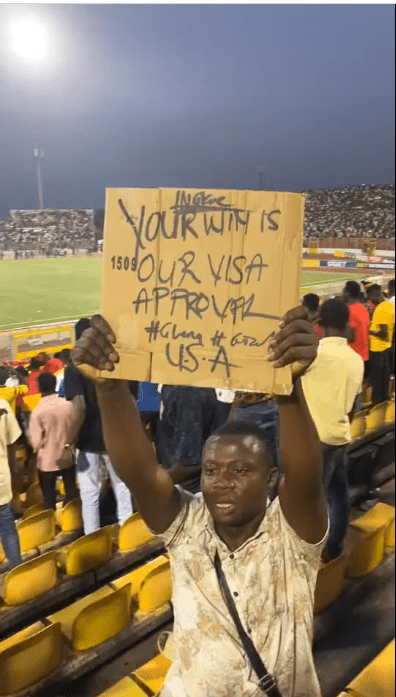 "You win our Visa approval to the US." The underlying idea is that the success of the Black Stars in qualifying for the World Cup would serve as a symbolic gateway for these fans to realize their dream of immigrating to the United States.
Looking ahead to the upcoming match against Comoros, the Black Stars find themselves in a competitive qualifying group that includes Madagascar, Comoros, Mali, the Central African Republic (CAR), and Chad.
As they prepare for the second group match, the Black Stars are currently tied for first place with three points each, trailing behind Mali and Comoros in the group standings.
The outcome of this qualifying journey will not only shape the future of Ghana's football but also holds personal aspirations for fans seeking opportunities beyond the sporting arena.