Kylian Mbappe's stand-off with Paris Saint-Germain (PSG) has taken a new turn as he is set to train with the club's 'B' squad on Monday morning, August 7.
The 24-year-old striker's refusal to sign a contract extension has sparked a bitter feud with the French champions, with both parties unwilling to budge from their stances.
Mbappe finds himself in the final year of his contract, making his situation increasingly precarious for PSG, who are eager to avoid losing their star player on a free transfer next summer. The club had previously given up hope of convincing him to extend his stay and are now looking to offload him before his contract expires.
The relationship between the player and the club has been fraught with tension in recent weeks, with Mbappe pushing hard for a move to Real Madrid. His determination to secure the transfer by any means necessary has added to the strained atmosphere surrounding his future at PSG.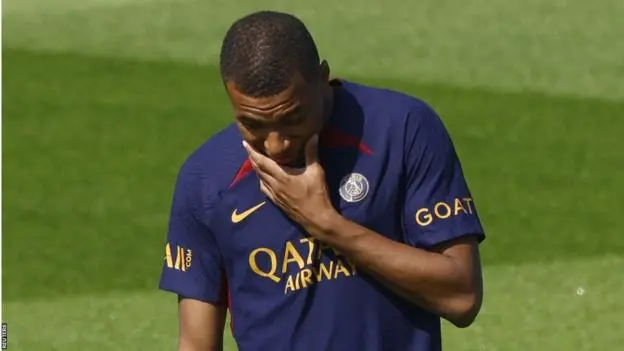 In an attempt to find a resolution, PSG received a staggering £259 million bid from Saudi Pro League side Al-Hilal last month. However, Mbappe outright refused to engage with the Saudi club, signaling his intent to pursue a move to the Spanish capital.
As the situation worsened, PSG made another effort to keep their star player by offering him a contract extension that included a 'guaranteed sale' clause for the end of the upcoming season.
Nevertheless, the 2018 World Cup winner remained steadfast in his demands, rejecting the extension and insisting on a free transfer instead.
As the transfer window draws closer to its end, all eyes are on Kylian Mbappe and PSG, waiting to see if a resolution can be reached before the start of the new season.
Fans and football enthusiasts alike will be closely following the developments surrounding this high-profile saga, which could significantly impact the landscape of European football.