Renowned Nigerian actor, John Okafor, popularly known as Mr. Ibu, has endured the amputation of one of his legs as part of his ongoing fight against an undisclosed ailment.
His family has revealed that this drastic measure was taken to increase his chances of survival.
A statement from Mr. Ibu's family, posted on his Instagram page on Monday, November 6, 2023, expressed their gratitude for the support they've received and emphasized their need for further financial assistance to help with the actor's medical expenses.
The statement read, "Good afternoon, Nigerians. We want to appreciate everyone who has come through for our dad.
Saying we are grateful is an understatement, and only the good Lord can thank you all enough for every help you've rendered."
It continued, "As of 1 p.m. today, Daddy has gone through seven successful surgeries. But to keep him alive and increase his chances of recovery, one of his legs had to be amputated.
This development has been hard on us all, but we've had to accept it as Daddy's new reality to keep him alive."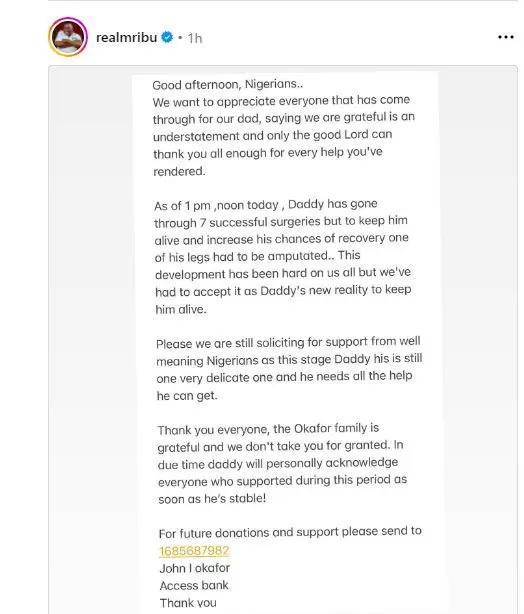 The family concluded, "Please, we are still soliciting support from well-meaning Nigerians, as, at this stage, Daddy is still very delicate, and he needs all the help he can get. Thank you, everyone.
The Okafor family is grateful, and we don't take you for granted. In due time, Daddy will personally acknowledge everyone who supported him during this period as soon as he's stable."
Last October, Mr. Ibu had publicly appealed for financial assistance to cover the costs of his medical condition, which had left him bedridden for several weeks.
During that period, he disclosed that amputation had been proposed by his doctors if other treatment options proved ineffective.
In a widely shared video, Mr. Ibu had said, "While I am hoping for prayers and assistance, as I speak to you, I am still lying down in the hospital. The medical director of this hospital said that in case his new idea does not work, the next idea is to cut off my leg.
Just see me, if they cut off my leg, where would I go? Pray for me, I don't want my leg to be cut off, thank you so much, God bless you."
He further appealed, "Dear Good people of Nigeria, we are counting on your support at this point, we need it the most."
The actor's battle with his ailment and the amputation has drawn the attention of his fans and well-wishers, who continue to offer support and prayers during this challenging time.
Visit our Latest Entertainment News Page for the latest updates on Showbiz, Celebrity Gossip