On Friday (March 24), a devastating explosion occurred at the R.M. Palmer Co. chocolate factory in Pennsylvania, claiming the lives of two individuals and leaving nine others missing, according to officials.
The explosion, which occurred shortly before 5 p.m., caused a massive plume of black smoke to rise into the sky, resulting in the destruction of one building and significant damage to a neighboring structure that housed apartments.
The exact number of injured persons has not been confirmed, but several people were hurt in the blast, as reported by West Reading Borough Police Department Chief of Police Wayne Holben.
"The site of the explosion is pretty much leveled," stated West Reading Borough Mayor Samantha Kaag, describing the aftermath of the tragic event.
He added that "The force of the explosion was so intense that it even shifted the building in front, which includes a church and apartments, moving it forward by four feet."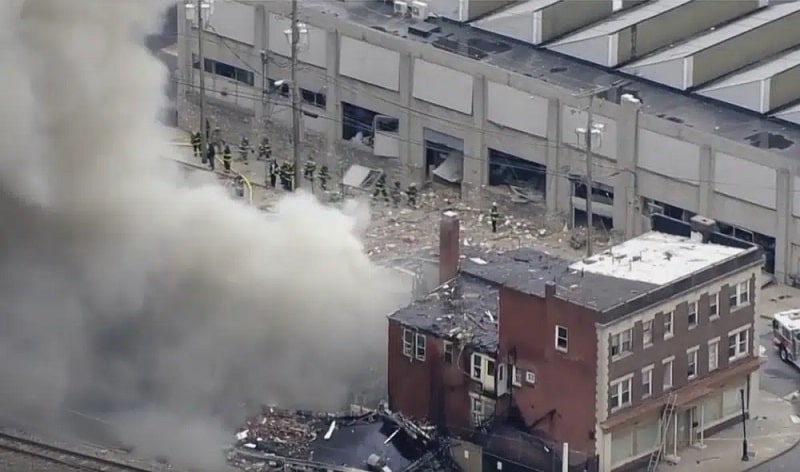 The investigation into the cause of the explosion, which occurred in a community approximately 60 miles (96 kilometers) northwest of Philadelphia, is currently underway, as stated by Holden in his address to reporters.
Tower Health spokeswoman Jessica Bezler reported that eight individuals were transported to Reading Hospital on Friday evening. Two of them were admitted and in fair condition, while five others were receiving treatment and expected to be released. One patient was transferred to a different facility, but no further details were provided.
Although no evacuations were ordered, Mayor Kaag stated that people were requested to move back one block in each direction from the site of the explosion. However, some residents of the damaged apartment building were forced to leave, according to Dean Murray, the borough manager of West Reading Borough.
Mayor Kaag expressed that borough officials were not immediately in contact with R.M. Palmer Company, which Murray described as a "staple of the borough."
Related: Russia presses along Ukraine front after reports of Bakhmut slowdown