Popular Nigerian singer, songwriter and rapper, Divine Ikubor well-known as Rema has has taken to social media  to address some issues he has been facing on his birthday.
Rema yesterday Saturday, May 1st, 2021, celebrated his birthday as he turns a new age @ 21-years.
Taking to his Twitter account in a series of post made on his special day, the young talented singer adressed a whole lot of issues he has been encountering since he blew into the limelight as a popular musician.
It is not just a small deal to be a celibrity, it also comes at a cost, very few celebs find their way to easily contain the pressure it comes with while others get out of lane with the way they handle it, looking at the way celebs sometimes get criticized.
See This: Mbosso Drops Music Video For "Yes" Ft Spice Diana
Rema in his series of post opened up on issues critics have been having on him, as well as addressing how far he has come and what he has been through.
The 21-year old star appealed with Photographers not to make his photos look to much perfect by leaving it natural and making people see the pimples he has on his face, instead of deceiving fans he has a smooth skin.
He prayed good health on his birthday, hoped to conquer the whole world with his musical craft, he also did same for fans out there, asked that they realize the treasures they have and focus on preserving them instead of turning them against each other.
In his words,
My Birthday wish is Good health, that's all I need to conquer the whole world. Thank you GOD!

I pray the fans realize the treasures they have and focus on preserving them instead of turning them against each other. We will all die and leave this money and fame behind with no one left for you to STAN! Let love reign now before it's too late!

Photographers stop editing my pimples so people don't feel I'm perfect and start pressuring themselves to have perfect skin! I don't fuck with the rules of the game, I don't care what people think about me anymore! let people love me for me!

Too many youths depressed and committing suicide because they want to be rich and famous early, pressuring yourself because if you're not a success early you're not a success at all! Be patient! Not everybody with money is HAPPY!

His lyrics are childish" Yes! I'm young fucking let me grow, if I start spitting all the bars now what will spit when I'm 30 years old, I barely write music let me have a collection of experiences and chat real shit from my heart! Many niggas sing about shit they don't do!"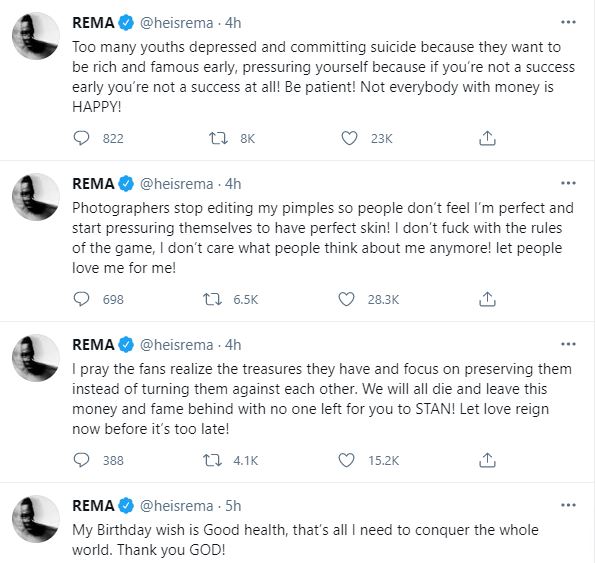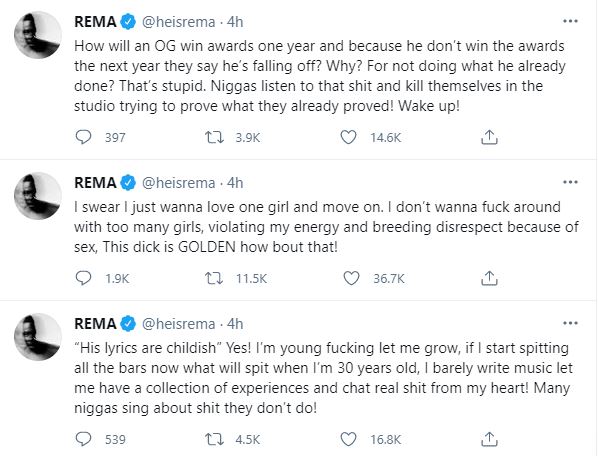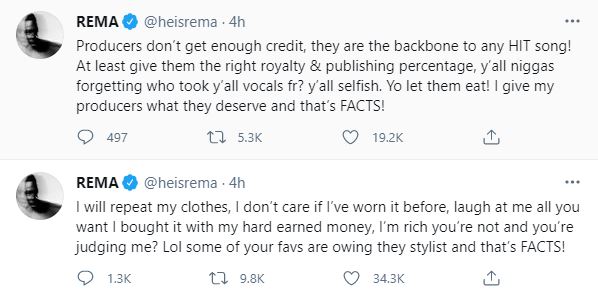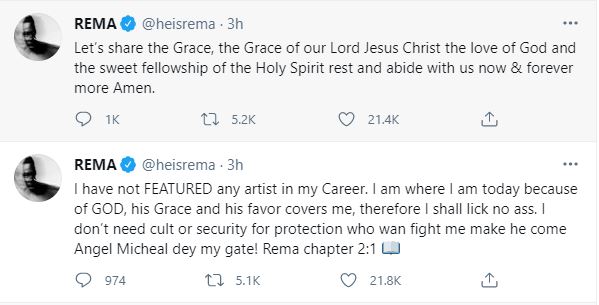 Also See This: Sarkodie Is Not My Friend: Kuami Eugene Explains Why The Rapper Isn't His Friend [Watch Video]
I hope you had a nice time going through the above article, subscribe to townflex.com by clicking on the bell icon displaying in the bottom corner to receive our daily post updates first.