Latest Entertainment News (Townflex) – In a recent video circulating on social media, a disgruntled soldier has issued a stern warning to Kizz Daniel's bouncer, threatening dire consequences if the muscular figure is caught wearing camouflage military uniform again.
The soldier, visibly angered by the bouncer's actions, questioned the choice to don the military "camo" in his skits, considering it a blatant disrespect to the esteemed uniform.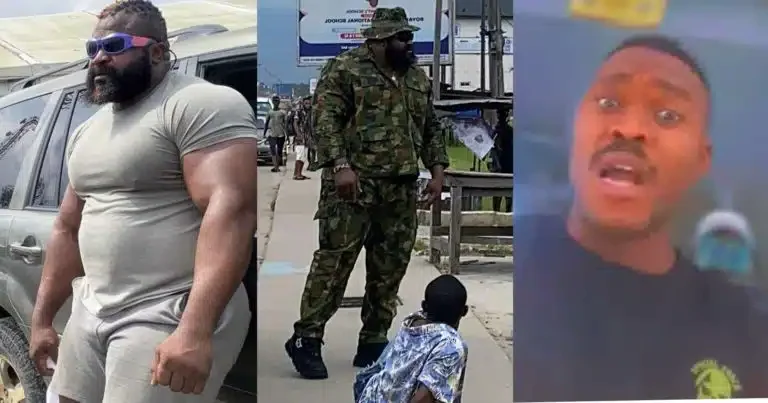 In a video message, the soldier expressed his displeasure, stating, "We're not happy with you."
He went on to address the bouncer directly, questioning his intentions and emphasizing the seriousness of the matter. "Are you a bastard? What kind of thing is that one?
What are you trying to mean, that maybe you can put on our uniform and act your drama," the soldier exclaimed.
The soldier's warning took a more ominous tone as he concluded, "See, God bless your forefathers make we catch you… I swear, I'll condemn you. I'll condemn you."
READ ALSO: Following over a year of dating, Lori Harvey and Damson Idris have confirmed their breakup.
This stern message has sparked discussions on social media, with users expressing varied opinions on the soldier's reaction and the bouncer's choice of attire.
Visit our Latest Entertainment News Page for the latest updates on Showbiz, Celebrity Gossip