Steve Harvey, is a renowned American comedian, television host, and author, has established himself as a prominent figure in the entertainment industry. With a successful career spanning several decades, Harvey has not only brought laughter to millions but has also amassed a significant net worth.
Who is Steve Harvey? In this comprehensive biography, we will delve into his remarkable journey, explore his net worth, discuss his personal life including his wife and children, and provide valuable insights into the life of this multi-talented individual.
Steve Harvey Career:
Real and legal name is Broderick Stephen Harvey Sr, born on January 17, 1957, in Welch, West Virginia, Steve Harvey began his career as a stand-up comedian in the late 1980s. His unique comedic style and relatable humor quickly gained attention, leading to numerous appearances on television shows and comedy clubs across the United States. Harvey's breakthrough came in the mid-1990s when he starred in his self-titled sitcom, "The Steve Harvey Show," which aired for six successful seasons.
Expanding his reach, Harvey entered the realm of hosting, where he truly thrived. He gained widespread recognition as the host of the popular game show "Family Feud," injecting his own brand of humor and charisma into the program. Harvey's success on the show led to him also hosting "Celebrity Family Feud," further cementing his position as a beloved television personality.
Aside from his television career, Steve Harvey is also a best-selling author. His books, including "Act Like a Lady, Think Like a Man" and "Straight Talk, No Chaser," have achieved tremendous success, resonating with readers seeking relationship advice and personal growth.
Steve Harvey Net Worth:
Thanks to his extensive career in the entertainment industry, Steve Harvey has amassed a remarkable net worth. As of the latest available information, his net worth is estimated to be around $200 million dollars according to CelebrityNetWorth.
The site also reveals that he earns an impressive income of $40 to $50 million, having once received an annual payment of around $30 million for hosting popular shows such as "Family Feud," "Celebrity Family Feud," and his radio engagements
Harvey's financial success can be attributed to his various ventures, including television shows, hosting gigs, book sales, endorsements, and entrepreneurial endeavors.
Steve Harvey Wife and Children:
Steve Harvey has been married three times throughout his life. His first marriage to Marcia Harvey lasted from 1980 to 1994, and they have three children together: twin daughters Brandi and Karli, and son Broderick Harvey Jr.
Following his divorce, Harvey married his second wife, Mary Shackelford, in 1996. They have one child together, a son named Wynton. However, Harvey and Shackelford divorced in 2005.
In 2007, Steve Harvey married his current wife, Marjorie Bridges. Together, they have blended their families, with Marjorie bringing three children from her previous marriage: Morgan, Jason, and Lori. Harvey and Marjorie have been a strong and supportive couple, with their relationship serving as an inspiration to many.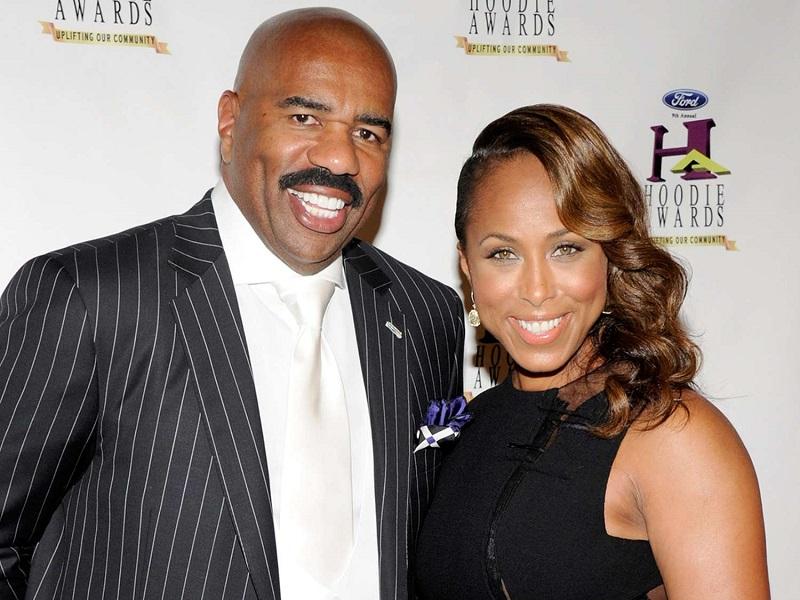 Conclusion:
Steve Harvey's journey from a stand-up comedian to a highly successful television host and author is a testament to his talent, hard work, and unwavering determination. With a net worth of approximately $200 million, he has achieved significant financial success. Harvey's personal life, marked by three marriages and a blended family, showcases his commitment to love and family values.
From making audiences laugh on stage to providing guidance through his books, Steve Harvey continues to captivate audiences and inspire individuals worldwide. As he forges ahead in his career, his undeniable talent and entrepreneurial spirit ensure that he will remain a prominent figure in the entertainment industry for years to come.
Related: People also search for;
For an extensive collection of celebrity profiles and in-depth information, including net worth details, visit our Celebrity Page.
Do you enjoy reading from Townflex? Do You Want Notifications From Us On Our Latest Post? If so, click on the Red bell icon below to subscribe to our feed, which will appear in your smartphone's notification after we publish a new article. You may also follow us on Twitter at @Townflexgh, Facebook at Townflex, Telegram at @Townflex, Townflex on Pinterest, Townflex on TikTok, Townflex on YouTube, and Townflex on Google News.