Ghanaian serial hitmaker, reggae/dancehall recording artiste, Stonebwoy finally reacts to the ongoing saga between his brother, Shatta Wale, and Nigerian artists (Music Industry).
As many of you are already aware of the issue at hand Involving Ghanaian dancehall artiste, Born with his legal name as Charles Nii Armah Mensah Jnr, well-known as Shatta Wale as he has taken on the mantle to f!ght Nigerian artistes and also the Nigerian Music Industry.
Wale's fight against Nigerians is based on the fact that Nigerian artistes are a bit selfish and that they do are doing nothing to reciprocate the love shown to them by artistes from other parts of the African continent especially Ghana and its industry by promoting other artistes in their country.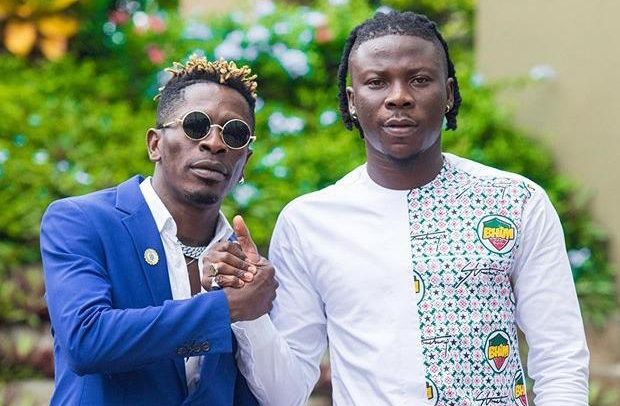 Shatta Wale vs Nigerian Artistes
This has become one of the trending topics making headlines and buzzing on the internet which has gotten many industry people and fans of music across the continent to share their perspective of the given situation.
Well, Ghanaian reggae/dancehall recording artiste, Stonebwoy born with his legal name as Livingstone Etse Satekla, who have been very busy with his event, performances and scheduled couldn't wade into this issue till now.
Stonebwoy Reacts
Stonebwoy has finally broken silence on the trending war against his colleague Ghanaian dancehall musician Shatta and the Nigerian industry in a lengthy post he made and shared across all his social media platforms.
According to the Bhimnation President's post, he stands with Wale in some sense because looking at the angel on which Wale was speaking on, he is very correct and many people know about that.
But Stobewoy's concern now has to be with the approach used by his brother, Wale in communicating or addressing the issue which he thinks is wrong.
Stonebwoy added to Wale's quest even though after disagreeing with his approach said that the topic of Nigeria not reciprocating the love and support shown them particularly by Ghana is valid and deserves critical attention.
According to Stonebwoy, our Nigerian brother must consider that with their great power comes the responsibility of helping to forge a United African front by deliberately allowing music from other African countries which pollinate the Nigerian music to flourish on Nigerian Platforms, and also on local and international levels.
He seized the opportunity to preach peace and unity amongst African artistes, and acknowledged the fact that Nigerian artistes are breaking barriers and putting Africa Music on the global map but asked for more to be done by our Nigerian brothers and sisters in the music business.
The Nominate hit singer also addressed a message to all Ghanaians home and abroad asking that they must emulate the Nigerian approach of prioritizing an agenda to invest in and support Ghanaian talent.
See His post below.
My thoughts.. 💭 pic.twitter.com/yYPqiWD4YS

— 1GAD (@stonebwoy) December 30, 2021
I hope you had a nice time going through the above article, if you did then subscribe to Townflex.com by clicking on the bell icon displayed in the bottom corner to receive our daily post updates first, and also click to subscribe to our YouTube channel for more updates.