Ghanaian dancehall recording artiste, Charles Nii Armah Mensah aka Shatta Wale goes for Covid-19 test and shared his results with the public.
The dancehall act on Thursday Morning, February 4th, 2021, took to his verified Instagram account where he shared a photograph of his test result and a video of as he was undergoing the test proceedings with his fans after his test.
According to the test result he posted, the test was carried out yesterday, Wednesday, February 3, 2021, at around 5:28 PM.
And looking at the outcome of the test, it appeared that the name on the result was not that of the dancehall star, but instead, it had the name "Owusu Josua".
Wale in his caption for the post gave reasons why he decided not to use his real name "Charles Nii Armah Mensah" saying if he had used his real name the result would have come out as Positive but because he used a different name it came out negative.
Shatta Wale in his post captioned advised that the public should try to go in for their tests so as to know their stands, see his post below.
"GUYS PLEASE KINDLY GET TESTED TO KNOW YOUR STAND BECAUSE COVID IS INDEED REAL. AM SURE IF I HAD USED MY REAL NAME, THE RESULTS WOULD HAVE COME OUT POSITIVE 😂. CONTROVERSIAL NAME "MR CHARLES NII ARMAH MENSAH"😂. SWIPE RIGHT" he wrote.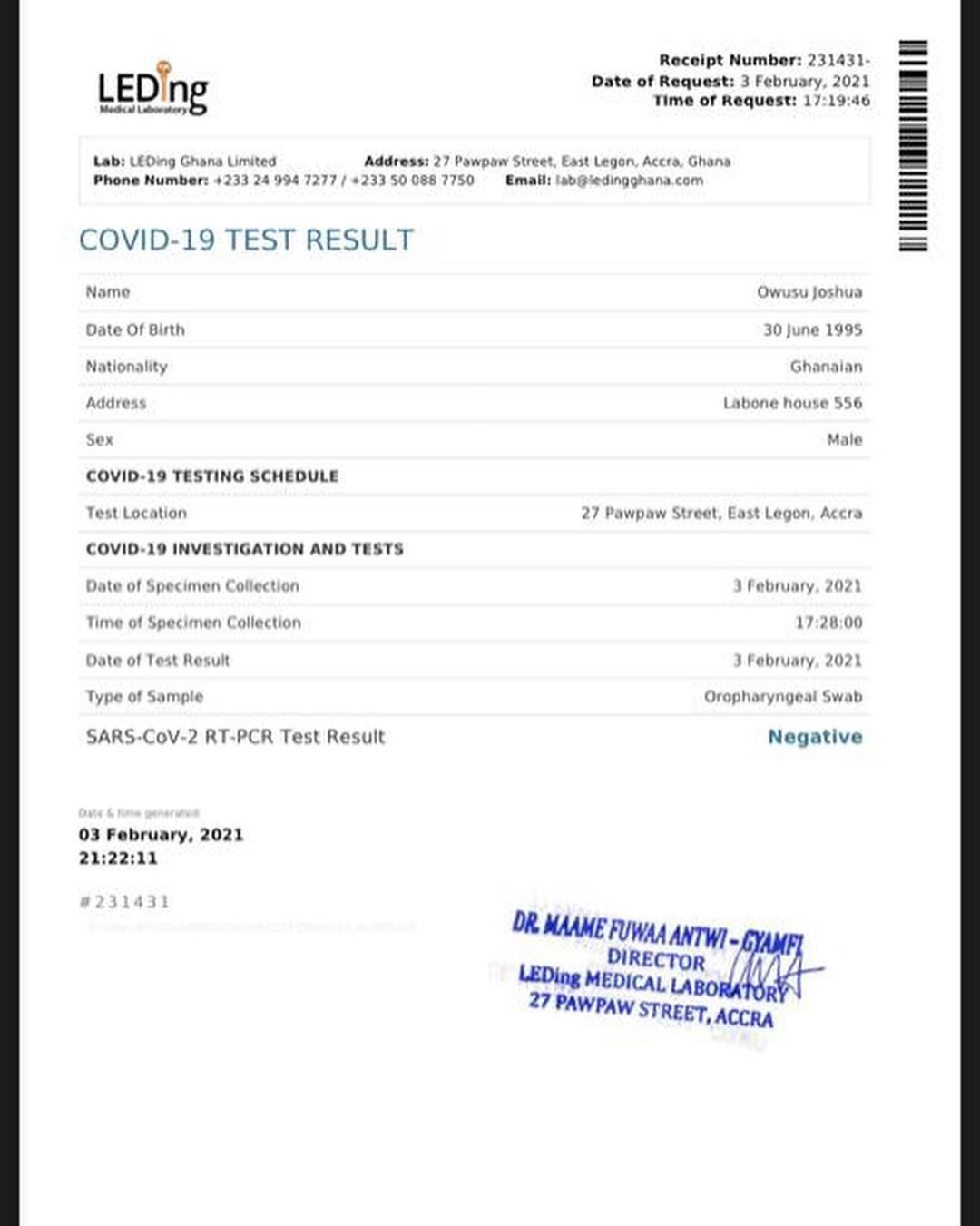 View this post on Instagram
I hope you had a nice time going through the above article, subscribe to townflex.com by clicking on the bell icon 🔔 displaying in the bottom corner to receive our daily post updates first.