In a heartfelt TikTok video, a Nigerian woman has opened up about her struggles with being unmarried at the age of 39.
In the emotional clip, she not only expressed her concerns about her marital status but also revealed that she believes she is "battling with a spirit husband."
The video, shared with the caption "39, no husband? Am I serving the wrong God? Why is mine different? Y a spirit husband instead?" has garnered attention and sparked discussions on social media.
READ ALSO: Top 10 Porn Watching Countries In The World
The woman, whose identity remains undisclosed, poured out her frustrations, questioning her faith and wondering why her life has taken such a unique turn.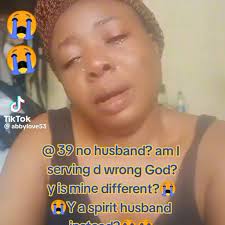 The revelation of a "spirit husband" has raised eyebrows and led to a variety of reactions from viewers.
The video has triggered conversations about societal expectations, spiritual beliefs, and the pressure individuals, especially women, face regarding marriage.
Many have offered words of encouragement and support, while others speculate on the nature of a "spirit husband" and its impact on her life.
As the video continues to circulate on social media platforms, it has become a focal point for discussions on the complexities of relationships, personal struggles, and the influence of cultural and spiritual beliefs on one's journey to marriage.