The Speaker of Parliament, Alban Bagbin, has addressed the need for a transformative global paradigm at the 24th International Conference of Chief Justices, organized by the City Montessori School in Lucknow, India.
The conference, attended by representatives from 63 countries, carried the theme "Uniting the world for children through enforceable world law and effective global governance."
Mr. Bagbin, speaking passionately on the necessity for a world order that better manages conflicts, restores trust in leadership across all sectors, and fosters peace, love, and happiness, proposed the reform of the United Nations Charter.
He emphasized the Charter's current inadequacy in addressing contemporary global challenges and recommended making it more responsive, democratic, inclusive, and aligned with modern governance requirements.
Key to this new world order, as envisioned by the Speaker, is the establishment of a global governance structure with four equal arms: the executive, legislature, judiciary, and civil society, which includes the media.
He criticized the traditional three-arm system, stating that the balance and checks are imbalanced, and the legislature has often fallen short in holding the executive accountable.
Mr. Bagbin identified civil society organizations (CSOs) as pivotal to this transformation.
He underlined their role in driving positive change, contributing to reform efforts, and ensuring governments and international bodies are held accountable for their actions.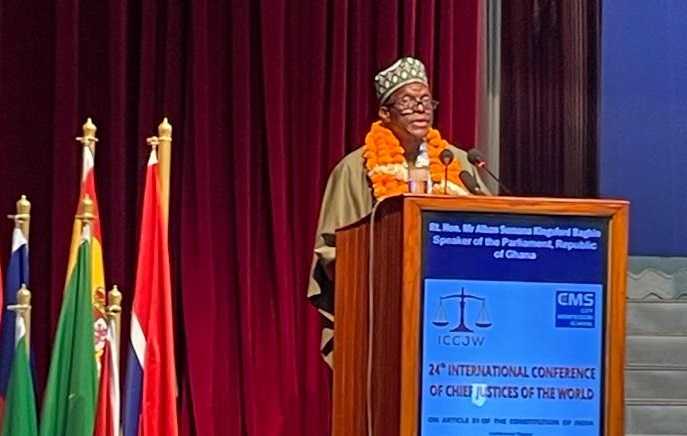 READ ALSO: BAM! Economist Blasts Akuffo-Addo for Failing to Combat Corruption
The proposed world governance institutions must prioritize principles of checks and balances, openness, transparency, and accountability to function effectively.
Mr. Bagbin stressed the responsibility of today's leaders to leave behind an inhabitable world that meets the aspirations of the youth and upholds human dignity.
He highlighted pressing global challenges such as environmental issues, conflicts in various regions, and the potential existential threat posed by Artificial Intelligence.
The Speaker urged the global community to prioritize laws and governance interventions that protect the rights of children.
He emphasized the importance of upholding legal obligations under the UN Conventions on the Rights of the Child, ensuring a safe, inclusive, and caring environment for children's growth and development.
Mr. Bagbin also encouraged the youth at the conference to remain optimistic and take an active role in building a more compassionate and equitable international community.
He highlighted their potential to drive positive change, influence government policies, and demand stronger safety nets for vulnerable populations.