In a surprising turn of events, far-right libertarian outsider Javier Milei emerged victorious in Argentina's presidential run-off poll, as per provisional results.
Milei's rival, economy minister Sergio Massa, gracefully conceded defeat, acknowledging the unexpected outcome.
Former US President Donald Trump, drawing parallels with his own political journey, extended congratulations to Milei, proclaiming he would "Make Argentina Great Again!"
The timing of this election is critical for Argentina, grappling with escalating inflation and an economy in turmoil.
Milei's unconventional proposals, such as detonating the central bank, resonated with voters seeking a radical change in the face of economic challenges.
Provisional results revealed Milei secured nearly 56% of the vote, surpassing Massa by over 10 points.
The former pundit, often likened to Trump and Brazil's Jair Bolsonaro, stands untested in executive leadership but managed to captivate voters with promises of adopting the US dollar as the official currency.
Despite economists expressing concerns about potential financial disasters, Milei's victory reflects a populace fed up with traditional politics and eager to experiment with new approaches.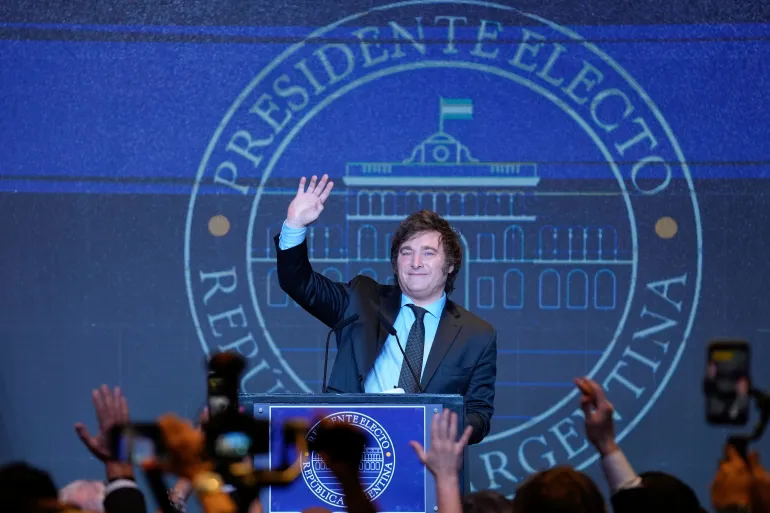 In a country where annual inflation exceeds 140%, and a significant portion lives in poverty, the win signals a willingness to embrace change for the prospect of a better life.
READ ALSO: SAD! Federal Polytechnic Student Hacked to Death in Kwara State
Former President Trump celebrated Milei's success on his Truth Social platform, expressing pride and confidence that the president-elect would turn Argentina around.
White House National Security Adviser Jake Sullivan commended the nation for holding free and fair elections, pledging to strengthen the bilateral relationship.
South American leaders offered diverse reactions, with Brazil's President extending good wishes, Colombia's President lamenting the election's impact on Latin America, and Chile's President saluting Milei's victory.