Barcelona bounced back from back-to-back defeats to beat Real Madrid in the Copa del Rey semi-final first leg.
Real had not lost at the Bernabeu since losing 3-2 to Chelsea in the second leg of a Champions League quarterfinal match, and even that "loss" resulted in Real moving on to the next round due to the 3-1 victory in the first leg played in London.
After being eliminated from the Europa League by Manchester United and then losing at mediocre Almeria to snap a seven-game winning streak in LaLiga, Barcelona arrived in the Spanish capital under pressure.
Despite the hosts having more possession and opportunities, an own goal by Eder Militao kept the teams apart at the Bernabeu.
In a heated Copa del Rey semi-final first leg on Thursday at the Bernabeu, tenacious Barcelona frustrated Real Madrid in order to gain a 1-0 victory over their fierce rivals.
After Madrid center-back Eder Militao scored an own goal in the opening period, the visitors played outstanding defense and overcame the absence of important players Ousmane Dembele, Robert Lewandowski, and Pedri due to injuries.
Prior to the hosts' vital error, which handed Barca the game's winning goal, Madrid were irritated and tempers rose.
Ferran Torres received a back pass from Madrid midfielder Eduardo Camavinga, who immediately responded to slide the ball to Franck Kessie.
Thibault Courtois stopped his direct shot, but Militao deflected the rebound into the goal.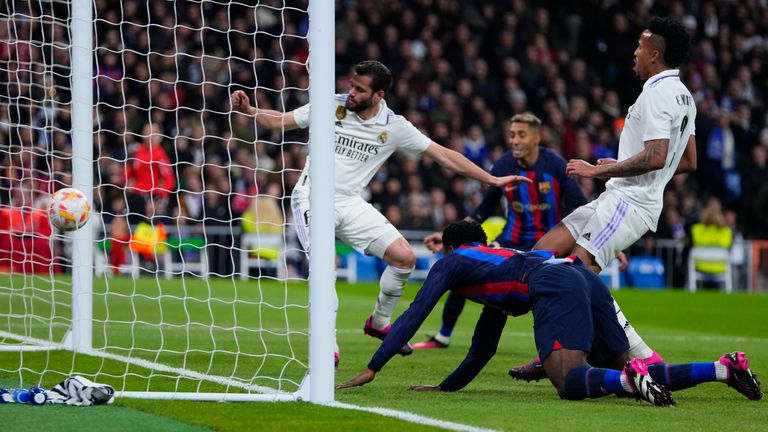 Although the assistant referee indicated that Kessie was offside, a VAR replay revealed that he was actually just slightly onside, therefore the goal stood.
Despite having nearly 70% of the possession in the second half, Carlo Ancelotti's team failed to register a single shot on goal.
Barca should have increased their advantage in the 71st minute when a Kessie shot that beat Courtois was stopped by a teammate Ansu Fati.
"We would have liked to have the ball more, to control de game a little more but we fought hard and competed in a high level".
"They had the ball but didnt create many chances. We got the advantage for the second leg and that's really important," Sergio Busquets told TVE after the game.
Araujo spoke about Real Madrid's winger, He said: "I will face Vinicius many more times in my career. He is a spectacular player."
"We all know that Vinicius has spectacular quality, but I worked hard to play this match and things went my way," he added.
We played well, with a very good defensive performance and we competed well. We needed a reaction because we came from two losses."
With a slim edge, Barcelona will now enter the second leg of the Copa del Rey semi-final at Camp Nou next month.
Click On the Red-Bell icon displayed at the right bottom corner of your reading screen to be the first person to get the latest news updates sent directly to your smartphone's notification.