Latest Entertainment News, Ghana (Townflex) – Bizzle Entertainment, the organizers of the highly anticipated Wolverhampton's Hanga concert, where Shatta Wale was set to perform, has officially responded to Shatta Wale's abrupt cancellation.
In our previous coverage of the event, we reported that Shatta Wale and his team had released a statement confirming the cancellation of his eagerly awaited musical performance at The Hangar in Wolverhampton, England, originally scheduled for October 4th.
Shatta Movement Empire's statement, released on Tuesday, October 31, attributed the cancellation to Bizzle Entertainment's inability to meet Shatta Wale's "Luxurious Demands."
In light of this disappointing development, the statement extended heartfelt apologies to Shatta Wale's global fan base, affectionately referred to as the Shatt Movement family, and assured that ticket refunds would be arranged for all those who had purchased tickets. Specifics about the refund process will be disclosed in the days to come.
Bizzle Entertainment Responds To Wale's Cancelation
In response to Shatta Wale's statement, Bizzle Entertainment expressed their shock and surprise over Wale's announcement and disputed the claims made by Shatta Wale and his team over their not being able to meet his demands.
This was made known in a press statement on their official website. According to the organizers, they had diligently fulfilled all the contractual obligations outlined by the Ghanaian dancehall star.
They also confirmed having made an initial 50% down payment, which was accepted by Shatta Wale in good faith. Furthermore, Shatta Wale had previously promised to deliver a spectacular show.
Bizzle Entertainment regards the cancellation as a breach of the signed contract and is actively exploring potential solutions to amicably address the issue. These solutions could encompass rescheduling the event or providing refunds to ticket holders.
The organizers emphasized their readiness and willingness to engage in discussions to address any concerns or issues that may have arisen, in line with their ongoing commitment to open communication throughout their collaboration.
Check out their full statements below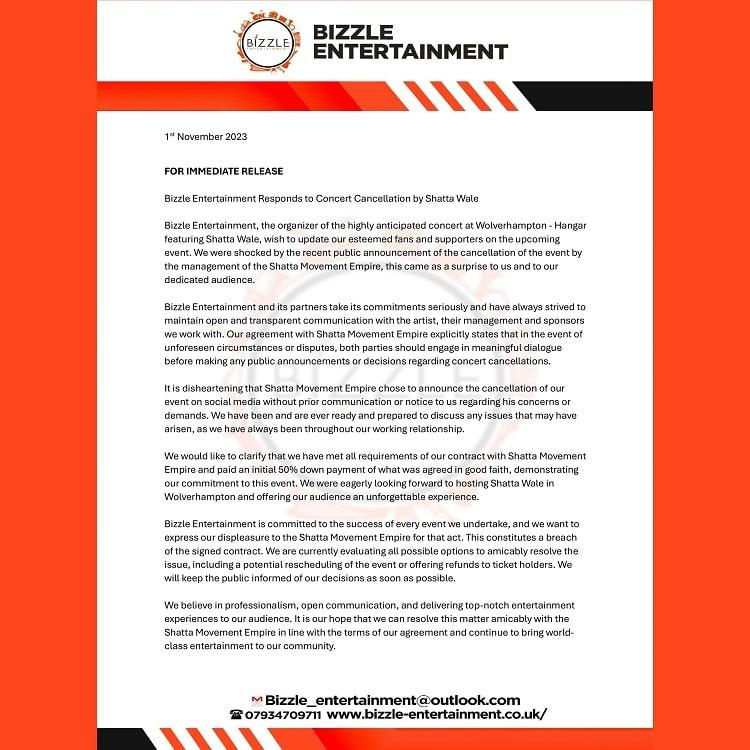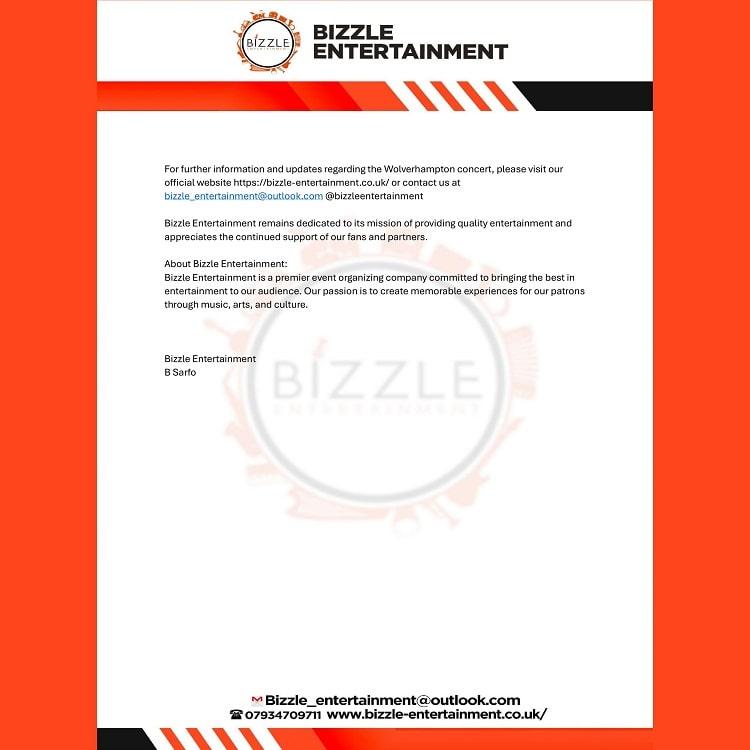 Visit our Latest Entertainment News Page for the latest updates on Showbiz, Celebrity Gossip