Brazil suffered a major setback in their 2026 World Cup qualifier against Uruguay as Neymar Jr., their star goal scorer, was forced to leave the field just before halftime.
The incident happened when Neymar Jr. awkwardly planted his foot while contesting for the ball, causing him to clutch his leg in pain.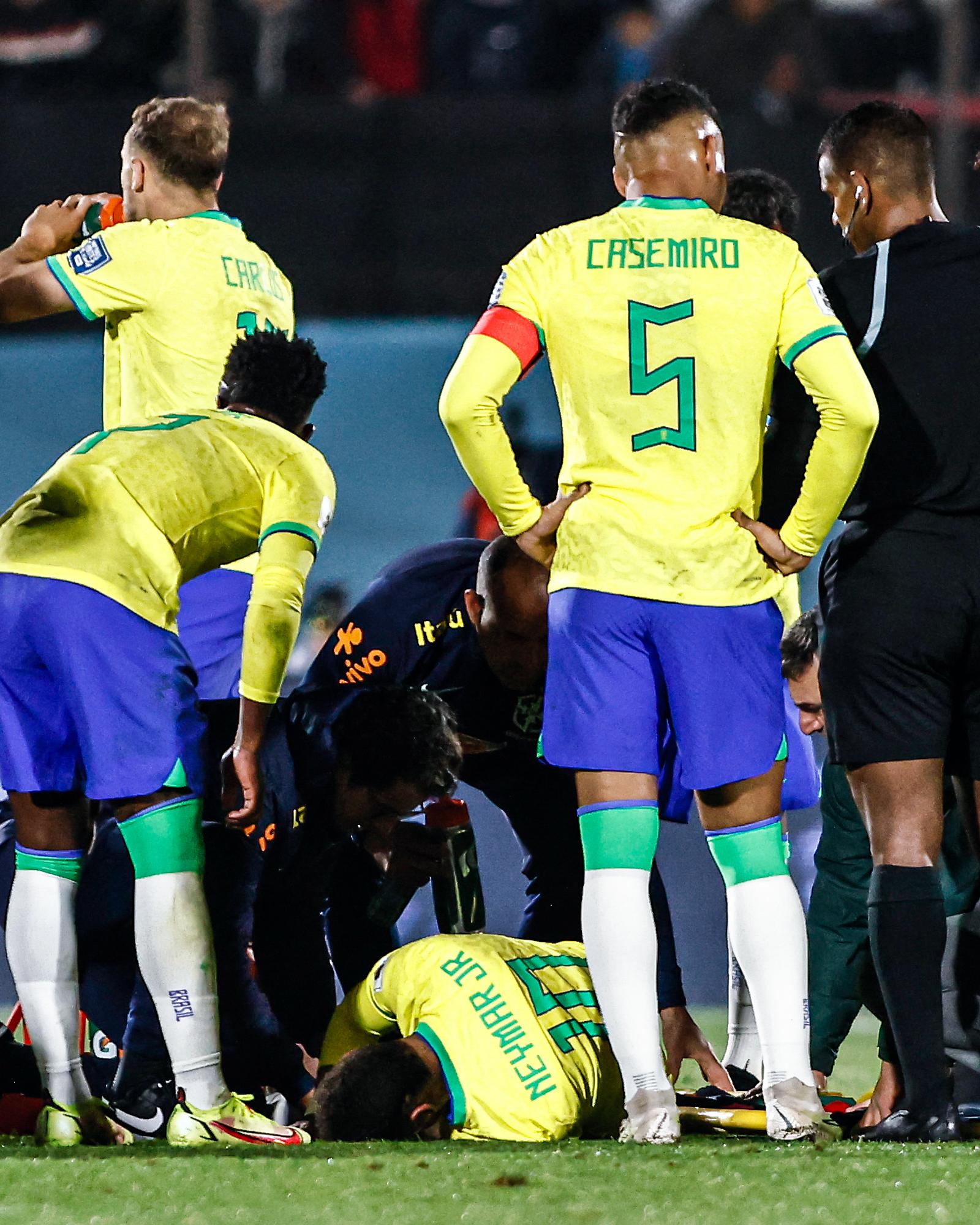 Tears welled up in the eyes of the Al-Hilal SFC player as he was carried off the field, leaving fans anxious about the severity of his injury.
Neymar Jr. had recently returned to the field after a previous injury, making this match his first call-up to the Brazil national team since spring.
This unfortunate event came on the heels of another troubling incident where Neymar Jr. had a box of popcorn thrown at him after the draw with Venezuela.
The 31-year-old had even considered boycotting the game following that unpleasant episode.
Now, it appears he is set to be sidelined, raising concerns among Brazil fans about his availability for upcoming matches.
Neymar Jr., still the world's most expensive footballer following his £198m transfer from Barcelona to Paris Saint-Germain in 2017, endured a painful blow during the closing stages of the first half against Uruguay, adding to the woes of Brazil's World Cup qualifying campaign.

Neymar Jr. tripped while contending for the ball with Nicolas de la Cruz, causing his knee to buckle as he fell to the ground at the Centenario Stadium.
Neymar Jr quitte le terrain en pleurant après une nouvelle blessure avec le Brésil face à l'Uruguay ! 🇧🇷🤕

Cela ressemble encore à une blessure grave pour Ney puisqu'il sortait sur une civière… les mains sur le visage. 😢💔pic.twitter.com/CHp6U5Tf8Y

— FOOTBALL-TIME 🌟 (@__Footballtime) October 18, 2023
Immediately, concerned teammates gathered around Brazil's leading goal scorer as he clutched his left knee, screaming in agony on the turf.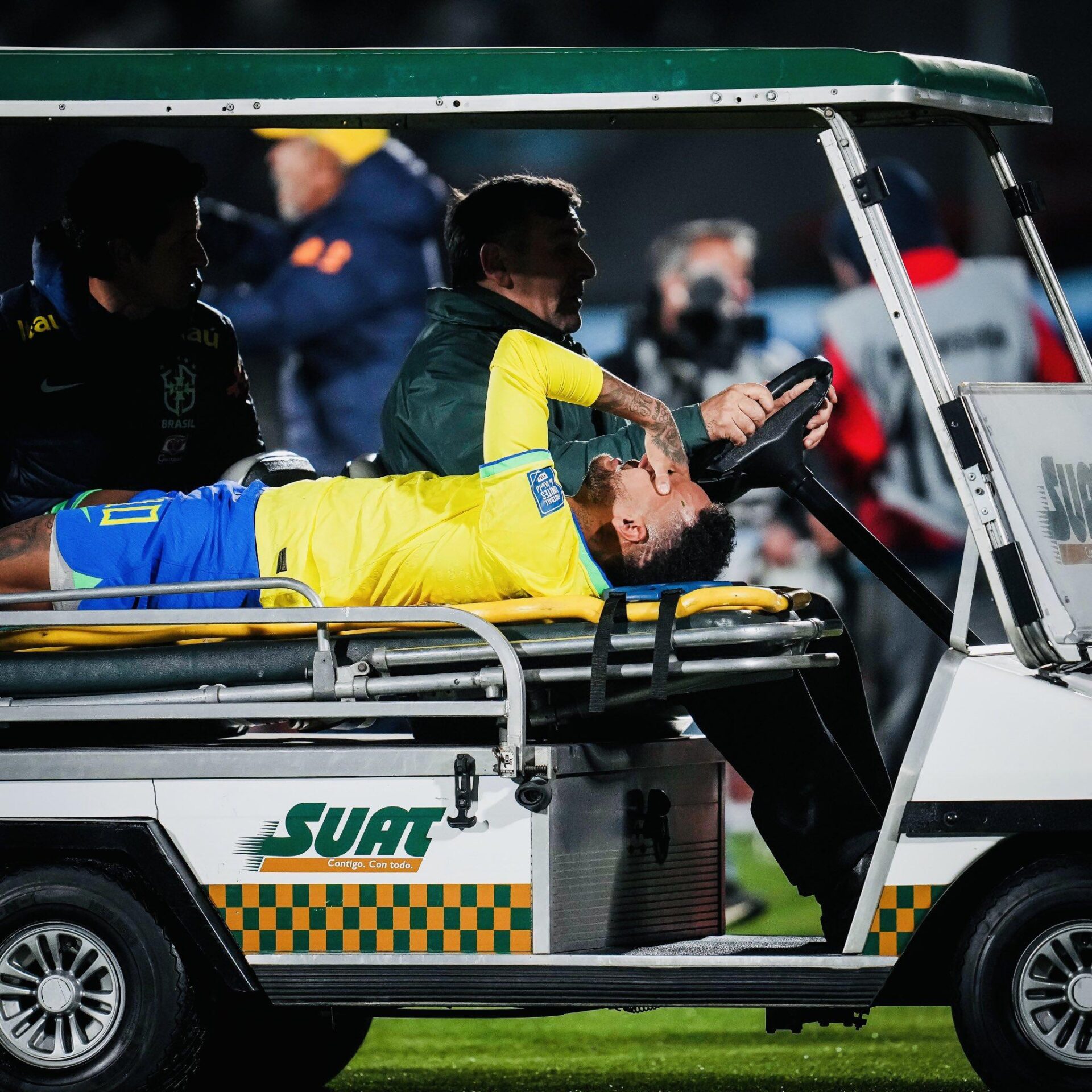 Neymar Jr. was visibly distraught, with both hands on his face, as he was carefully carried off on a stretcher. Witnesses noted tears streaming down his face during the ordeal.
Later, he was seen leaving the ground with the support of crutches. The national team doctor, Rodrigo Lasmar, addressed worried fans, explaining that it was too early to determine the extent of the injury.
Lasmar stated: "We conducted all the necessary tests, and we will repeat them tomorrow."
"These next 24 hours are key to see how his knee will respond, how swollen it will be and what images will show."
"Let's wait for the exams with calmness, evaluate with calmness and tell you once we have a diagnosis."
This recent injury has sent shockwaves through the Canarinha camp, and understandably so, given Neymar's concerning injury history. Optimism about his swift return to the field is low.
At the moment of Neymar's injury, Brazil was trailing 1-0 against Uruguay at halftime. This setback added to Brazil's woes on a dismal evening, ending in a 2-0 loss to Uruguay in Montevideo, marking a disappointing outcome for the five-time World Cup champions.