Fans of Fast & Furious movies will have very nice and entertaining days ahead as hip-hop star, Cardi B has been confirmed to be in the next version of the movie F10 maintaining her role in the newly released F9, released to theatres on June 25th.
American actor, Van Diesel who is the lead actor/character in the movie made this known in an exclusive interview with ETOnline's Nischelle Turner, during the world premiere of F9 (Fast & Furious 9) in Los Angeles.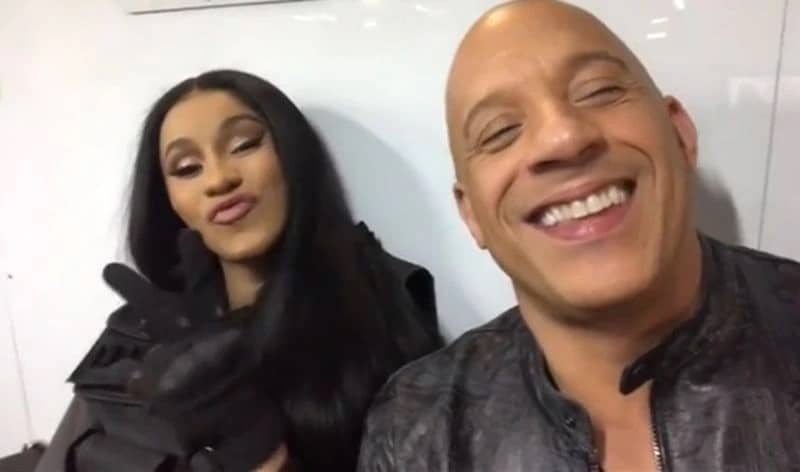 According to him, fans should get ready to get more entertained saying there is more to come when it comes to the rapper's character, Leysa in the action film.
"We are very much excited to evolve her character and to expand it to the finale," Diesel told Entertainment Tonight. "She came in Fast 9 just in time."
Well, it looks like the Grammy Awards Winner, Cardi B's involvement and performance in the F9 was not praised by Van Diesel alone but also, the director of the franchise, Justin Lin also praised the rapper saying he loves to work with her any day.
"I love Cardi, you know? I mean, it's amazing she showed up and within a minute she's part of the family, right?" he noted. "And I love how when I got together with her, her and Vin were talking about the character because she's actually really embedded into the overall universe, she's been around for a long time and this is just the first time we are seeing her, so I'm really excited to explore that character of her. I'll work with her any day," he added.
Cardi who called her character "powerful" and "strong," and referred to her as "that b**ch!" gave a short narrating of how her involvement in the Fast & Furious came into existence, see below.
"Vin Diesel reached out and he was talking about a role,". "I'm like, 'It's freakin Fast & Furious. Get me there, put me on a plane!'" she narrated.
I hope you had a nice time going through the above article, subscribe to townflex.com by clicking on the bell icon displaying in the bottom corner to receive our daily post updates first.