Could Lionel Messi secure his eighth Ballon d'Or title? The Argentine sensation stands as the frontrunner ahead of the unveiling of the 2023 nominees this Wednesday.
Lionel Messi and Erling Haaland stand as prominent contenders for this year's men's Ballon d'Or, while Aitana Bonmati, a standout star of the Spain World Cup team, leads the nominees revealed on Wednesday for the women's category.
The Ballon d'Or 2023 awards ceremony, taking place at the Theatre du Chatelet in Paris on October 30, when the victor will be officially announced.
Messi, who recently made the move from Paris Saint-Germain to Inter Miami, is in contention to secure his eighth Ballon d'Or, following his pivotal role in guiding Argentina to World Cup glory in Qatar last year.
Haaland emerges as a formidable challenger for the coveted award, having netted an impressive 52 goals in 53 appearances, instrumental in Manchester City's triumphant campaign that clinched the treble of Champions League, Premier League, and FA Cup titles last season.
The Norwegian striker notably claimed the UEFA Player of the Year accolade for the same season just last week.
Read Also: Mason Greenwood Kicks Off New Chapter with Getafe: Training Begins Amidst Fan Applause"
Additional contenders in the men's category include PSG's Kylian Mbappe and Haaland's City teammate, Kevin De Bruyne, among the 30 nominees. The ultimate recipient of this prestigious honor will be unveiled during a ceremony in Paris.
Benzema, who concluded his remarkable 14-year tenure with Real Madrid in June when he transferred to Saudi club Al-Ittihad, has also earned a nomination in the prestigious Ballon d'Or competition.
Ballon d'Or Nominees in full.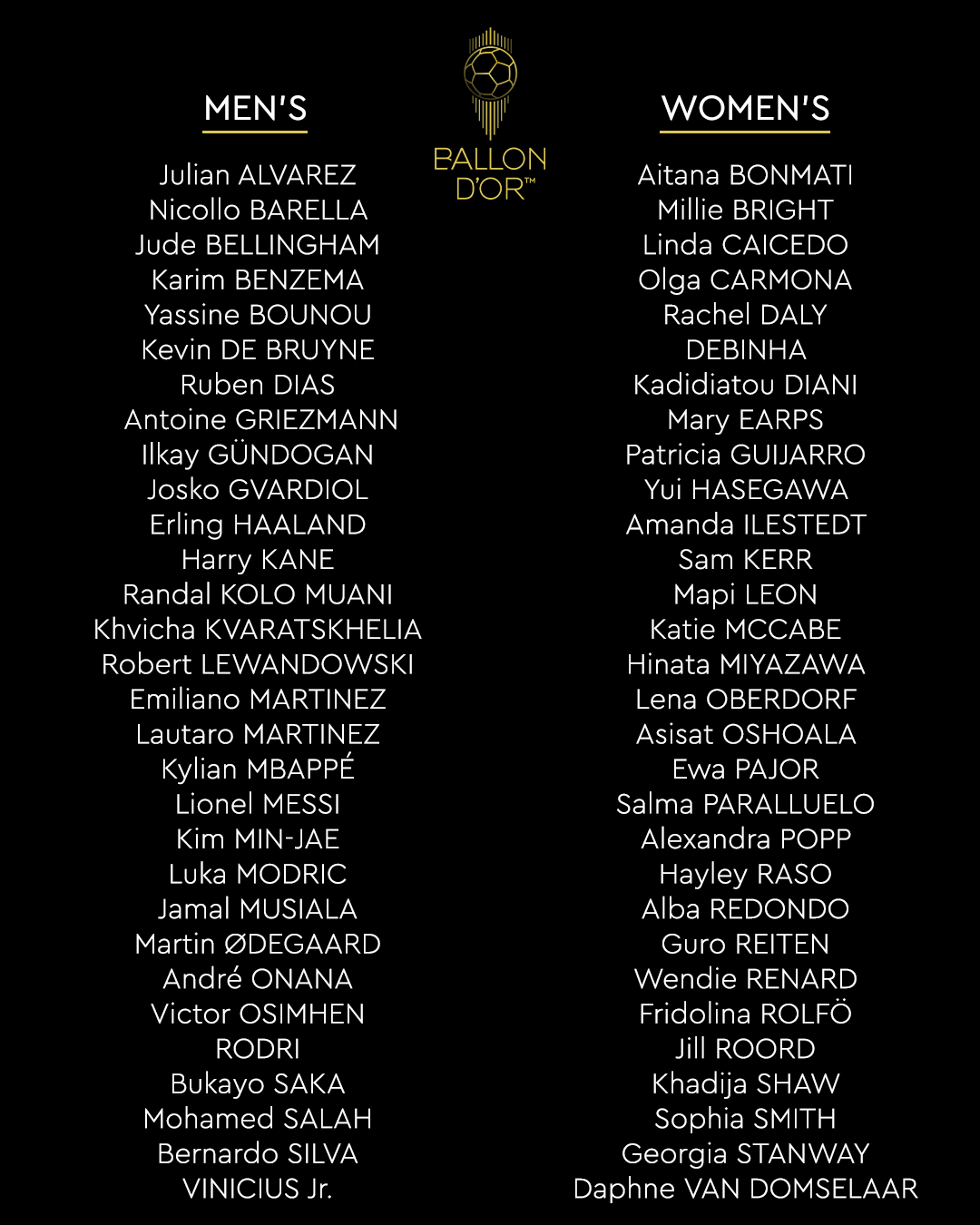 Bonmati, the recipient of the UEFA Women's Player Award, emerges as the frontrunner to secure the Ballon d'Or title, showcasing exceptional talent as Spain clinched the World Cup in Sydney just last month.
Additionally, she played a pivotal role in Barcelona's triumph in the Champions League, aiming to follow in the footsteps of her club and international compatriot Alexia Putellas, who claimed the title in the previous two years.
Notably, Putellas is absent from the current nominations, as her playing time for Barcelona was severely limited last season due to a ruptured anterior cruciate knee ligament injury she sustained in July 2022, which sidelined her for nine months.
Bonmati is among the four players from Spain's victorious World Cup squad who have been nominated for the Ballon d'Or, alongside Olga Carmona, Salma Paralluelo, and Alba Redondo.
Additionally, their compatriots Patricia Guijarro and Mapi Leon, both representing Barcelona, have received nominations.
Notably, despite their talent and prominence at Barcelona, Guijarro and Leon were not part of the World Cup squad.
This decision stemmed from their involvement in a protest last year, where they were among a group of 15 players who expressed their refusal to continue representing Spain, in disagreement with the Spanish federation and coach Jorge Vilda.
The list of 30 nominees also includes renowned figures like Chelsea and Australia's striker Sam Kerr and England's goalkeeper Mary Earps.
Source: 20newshub.com