Former Manchester United manager Sir Alex Ferguson paid a heartfelt tribute to the late Sir Bobby Charlton following his attendance at the football legend's funeral on Monday.
PRINCE William and Gareth Southgate joined fellow mourners in bidding farewell to the English icon at Manchester Cathedral.
Legends from the global football community assembled to commemorate the life of the World Cup hero.
Charlton's family, along with current and former United players and supporters, bid their final farewell alongside 1,000 mourners during an emotional ceremony.
Read Also: Guardiola Praises Palmer and Chelsea:"They are a really good team so there's no doubt. Liverpool couldn't win."
As Charlton's funeral cortege arrived at Old Trafford, it was met with applause from crowds lining the streets.
The procession then continued to Manchester Cathedral, where the presence of Charlton, who made 758 appearances for United and passed away at the age of 86 last month, was honored.
The service saw the gathering of prominent figures from the football world, including Sir Alex Ferguson, a close friend of Charlton, who paid their respects to the legendary figure.
"It was very sombre," Ferguson told Sky Sports. "One of the tributes from his grandson, I thought was fantastic."
"It's not easy going up there and speaking. The speakers did a great job."
"He was a fantastic man. I'm here at United because of Bobby Charlton."

He added: "The day I came, he supported me 100 per cent, all the way. He was totally behind me and everything we tried to do with youth."
"I'm here because of Bobby Charlton."
Former United player Michael Carrick, who now manages Middlesbrough, told Sky Sports: "It was inspirational to have someone of his aura and presence."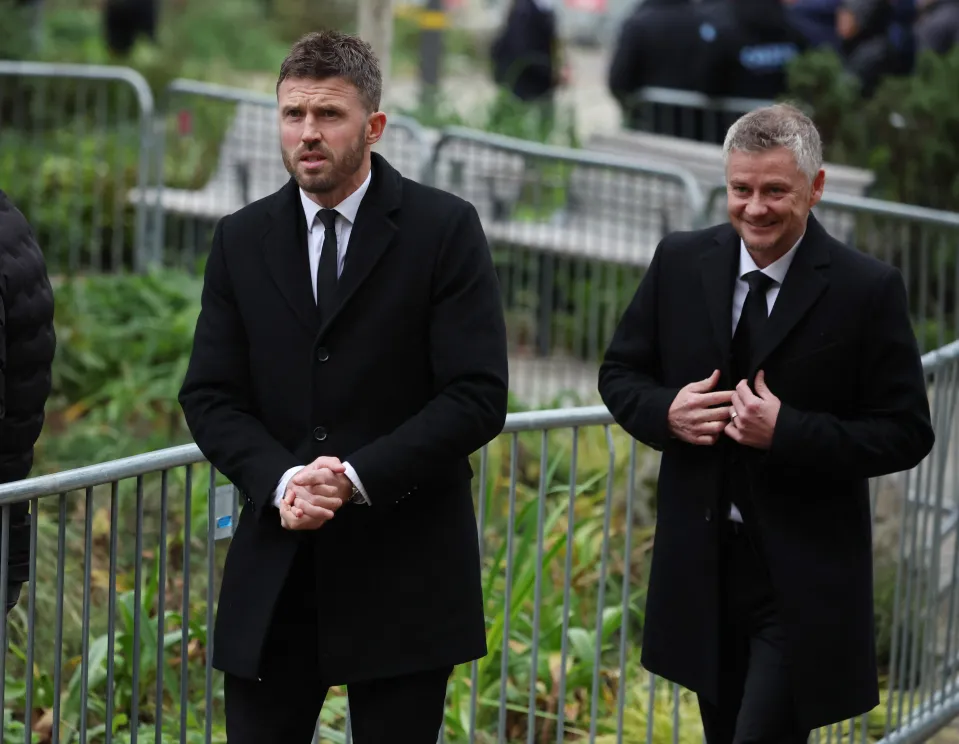 "To feel the level of support from him gave you so much confidence and belief. There was so much positive energy and a sense of achievement from just being there."
"It's a sad day in many ways, but it is a celebration and it's important to remember him for the person he was."
United Legend Peter Schmeichel added: "It was very fitting, a beautiful service. His grandson spoke up and spoke very fondly of him, spoke of him as a family man."

"It was a beautiful service. He is the most important man in Manchester United history."
"It is incredible, from the Munich disaster, surviving that and losing eight of his teammates, then the rebuild of the football club, then in no time they were on top of Europe."
Norma Ball, the widow of Sir Bobby, solemnly accompanied her partner's coffin into the service.
A touching tribute adorned his coffin, where she inscribed, "Dearest Bobby, forever in my thoughts, forever in my heart. All of my love always, Norma."
The funeral procession passed by the East Stand at Old Trafford and the iconic United Trinity statue, featuring Charlton, George Best, and Denis Law.
Representatives from United's youth sides formed a guard of honor around the statue, while a red, white, and black scarf adorned Charlton's neck, serving as the focal point of numerous floral tributes left by supporters.
The cathedral service, led by Canon Nigel Ashworth, included eulogies from family members and club figures.
The private ceremony, not filmed, featured tributes from former United chief executive David Gill, Manchester United Foundation CEO John Shiels, and members of Charlton's family.
Hymns such as "Abide With Me," traditionally sung before the FA Cup final, "Jerusalem," and a rendition of "How Great Thou Art" by opera singer Russell Watson were part of the service.
After Charlton's tragic passing on October 21, tens of thousands of mourners signed a book of condolence at Old Trafford.
Charlton, who faced dementia in his later years, succumbed to an accidental fall in a Knutsford care home, as later determined by coroners.
Survived by his wife Lady Norma, two daughters, and grandchildren, Charlton had retreated from public life following his dementia diagnosis in late 2020.