A married woman's heart was devastated when she realized that the young man she had been seeing secretly while her husband was away wasn't really faithful after all.
The woman who confided in an internet counsellor about her situation stated that she has been dating her partner for two years because her spouse is deployed.
She explained how despite her financial investment in the relationship, her sugar boy was unfaithful.
According to her, she noticed a text on his phone from a woman who said she was missing him, which sparked suspicions about his adultery.
Stated explicitly in her post that:
"We have been dating for the past two years, I have supported him financially and assisted him with renting a home. I had ideas for how we will resolve this in the future.
His phone beeped last week as he approached my house, and I noticed a pop-up SMS. It read, "Baby, I and Junior miss you."
I was furious. I took care of this man with my husband's money. My spouse is traveling. Why, for example, isn't there a trustworthy man on earth?"
Below is her full text: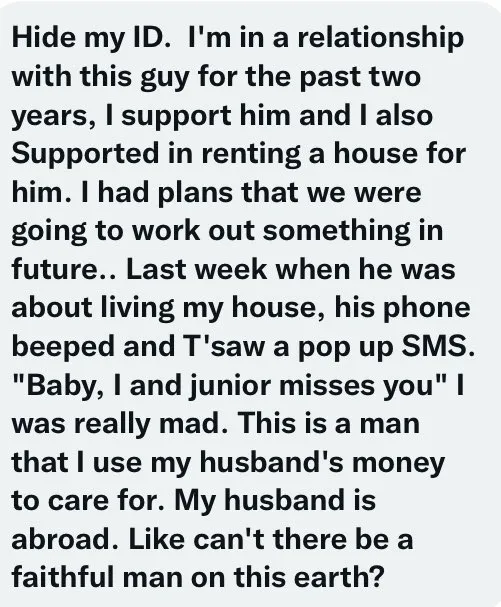 Conclusion
Well, guys there you have it. What are your thoughts on this?
Stay tuned for more entertaining updates on Townflex Media.