In response to vehement criticism from the club's devoted fans, Manchester United has made the decision to omit striker Mason Greenwood from their squad.
After a period of extensive speculation, the Red Devils' forward has been considered as no longer fitting the team's needs at Old Trafford.
This determination stems from the considerable online commotion generated by supporters who expressed strong opposition to the notion of a comeback for 21-year-old Greenwood.
Prior to this, Greenwood had confronted allegations encompassing attempted rape, assault, and controlling and coercive behavior.
Nonetheless, these accusations were dismissed by the Crown Prosecution Service (CPS) in February.
Gary Neville has strongly criticized the club for its mishandling of the Mason Greenwood saga, describing it as "distasteful."
The pundit from Sky Sports and former captain of the Red Devils expressed his view that the recent revelation of Greenwood's departure highlights a series of leadership shortcomings within the Old Trafford organization.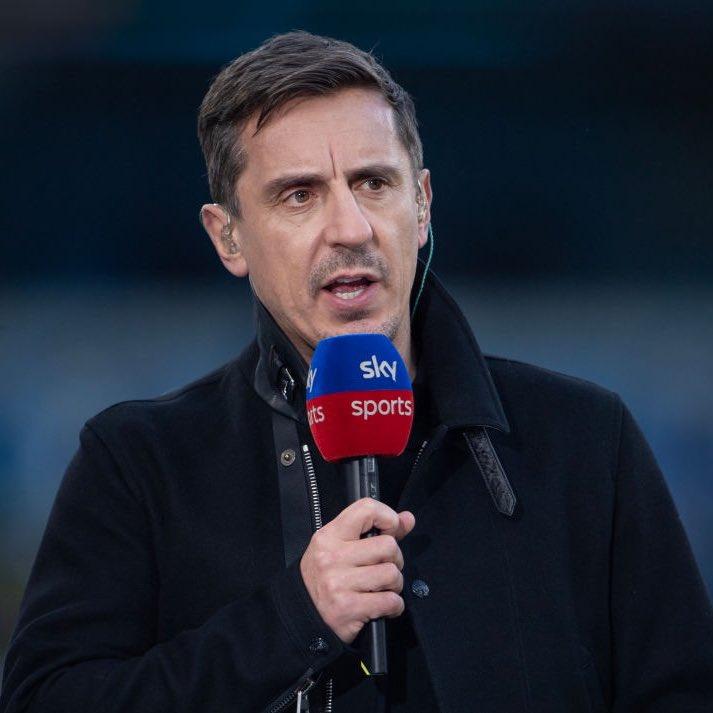 The former English international, Neville, acknowledged that the decision to announce Greenwood's exit from United was the correct one. However, during his appearance on Monday Night Football on Sky Sports, he remarked that the six-month process leading up to the announcement was "unpleasant."
Furthermore, he pointed out that the club's top executives failed to display a sense of firmness and authority throughout the ordeal.
Presently, Mason Greenwood, now in the shadow of Manchester United, is poised to secure a lucrative £10 million deal in Saudi Arabia alongside Steven Gerrard.
This development has sparked reactions from football figures such as Gary Lineker, who voiced their opinions about the decision.
Lineker, the host of Match Of The Day, remarked, "Inevitable and right decision on an untenable situation."
Mason Greenwood, who has been distanced from Manchester United, is reportedly a target for a lucrative £10 million deal with Saudi Arabian club Al-Ettifaq, now under the management of Steven Gerrard.
Alternatively, there's a possibility of him reuniting with former coach Jose Mourinho.
Following his departure from Manchester United, the former English striker's potential transfer to Al-Ettifaq in Saudi Arabia has gained attention.
This comes in the wake of Liverpool legend Steven Gerrard taking up the managerial role at the club this summer.
In another development, a Turkish club has shown interest in Mason Greenwood's services, having defeated Manchester United shortly after he was omitted from the squad in a dramatic announcement.
Manchester United faces a tight timeframe of just ten days to offload Mason Greenwood or potentially suffer financial losses.
Club bosses were set to bring Greenwood back into the fold after a prolonged and challenging process.
A source mentioned earlier that this journey was approaching its conclusion.
Greenwood's fervent aspiration to return to his primary field of expertise has been evident throughout this ordeal.
He enjoys unwavering support from both the players and the manager, Erik ten Hag, and he's patiently anticipating the signal to proceed.
It's anticipated that the club will announce its verdict, possibly as soon as Tuesday, subsequent to the conclusion of the women's World Cup final.
However, a notable negative reaction from the public could have potentially influenced the club's decision-makers to reconsider their stance.
The decision to remove Greenwood from the Old Trafford lineup was jointly made by club CEO Richard Arnold and American owner Joel Glazer after more than five months of extensive deliberations.
After an extended period of internal discussions, the club ultimately took action due to concerns expressed by certain staff members.
These concerns pertained to the intentions of reinstating Greenwood into the squad, despite the endorsement he received from manager Erik ten Hag and the majority of the first-team players.
As Manchester United contemplated the possibility of granting Greenwood a second chance, opposition within the fan community intensified.
Prominent figures such as Countdown TV presenter Rachel Riley and Westlife singer Bryan McFadden publicly expressed their disagreement with the prospective decision.
In addition, numerous fans communicated their dissent directly to Arnold and conveyed their objections through social media channels.
Concurrently, a group of female supporters organized a protest outside Old Trafford before United's inaugural match of the season against Wolves.