Ghanaian dancehall act, Shatta Wale replies music producer MOG Beatz after claiming Wale owes him huge amount of money and refusing to pay him.
In a post we published earlier today, we made it known that there is a new beef between Wale and MOG where shots were being thrown all over.
It all began when Shatta Wale took to his Official Twitter page and made a list of some Ghanaian music producers whom he cherishes and loves working with and also said that because of their kind heart, he is ready to spray/spoil them with cash.
This post by Wale made MOG Beatz angry and felt he has been disrespected and had to drop some hidden secrets, MOG whose name was exempted from Wale's list disclosed that the dancehall star has refused to pay him his money for the 10 solid beats he produced for him in on his 2018 released Reign Album.
The dancehall act born with the legal name Charles Nii Armah Mensah, who is known as the beef master and finds it hard to let go easily whenever people attack him came through with a response to MOG Beatz's claims that he owes him money.
Angry Wale took to his Twitter page and made series of posts to condemn the producer, and claimed that he has already paid for the work he did for him in 2018, he also shared couple of screenshots of the transaction to prove that he owes him nothing.
He went on to address the tweets by MOG as nonsense tweets and stated that he is an ungrateful soul for saying what he said about him Wale claimed that his konko beats even became hit before MOG came into the picture and that it is not surprising he did not include him in the list
"I won't watch people like you to stop helping others ok .. If you say you I have not sent you cash upon cash b4 then make dis nonsense tweets ..This shows how ungrateful you are in real life ..No wonder I didn't add u to my list ..My konko beatz hit before u came in P!!!!!" he tweeted."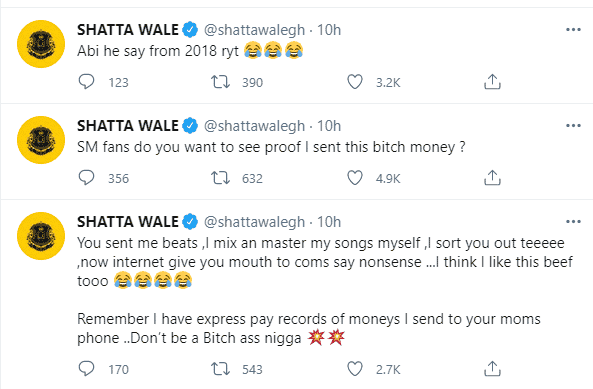 First evidence 💥🏃‍♀️💥🔫 Pussy pic.twitter.com/eYE1dvqcJW

— SHATTA WALE (@shattawalegh) February 28, 2021
He said 2018 that's my problem ,he fool ruff .. no wonder your life deh like that !!!! If you lie for my top so so suffer you go suffer ..aboa like rat !!! pic.twitter.com/13RAUvH7a1

— SHATTA WALE (@shattawalegh) February 28, 2021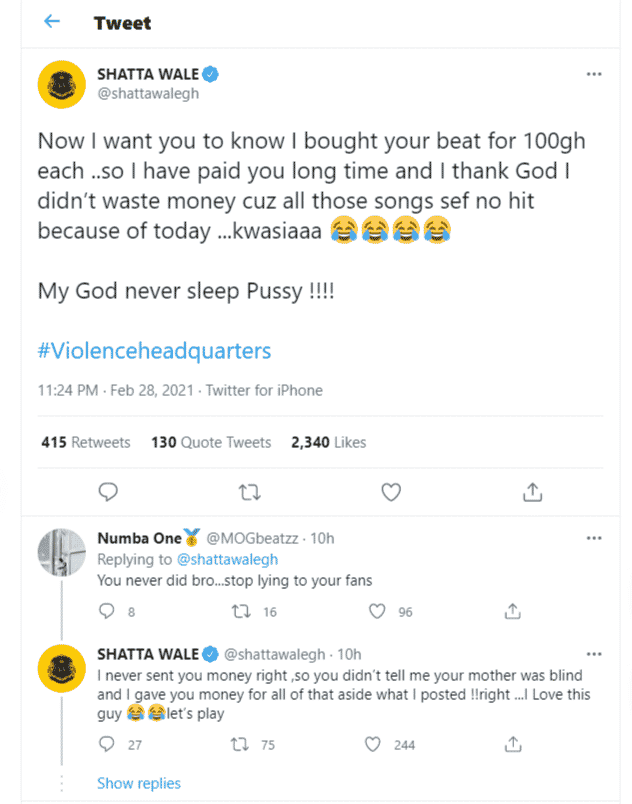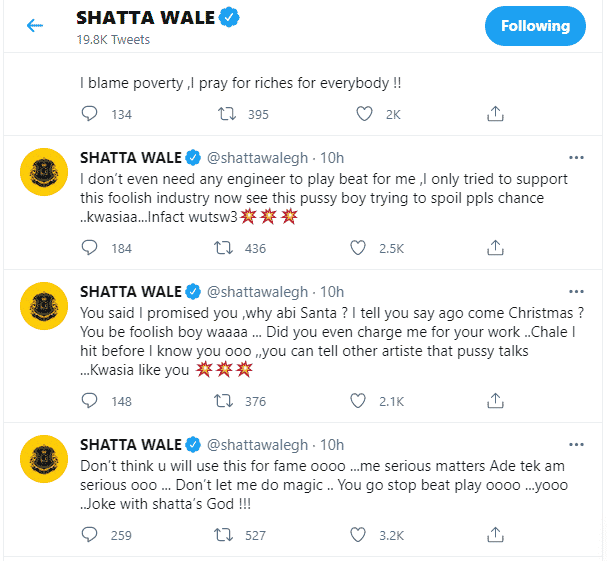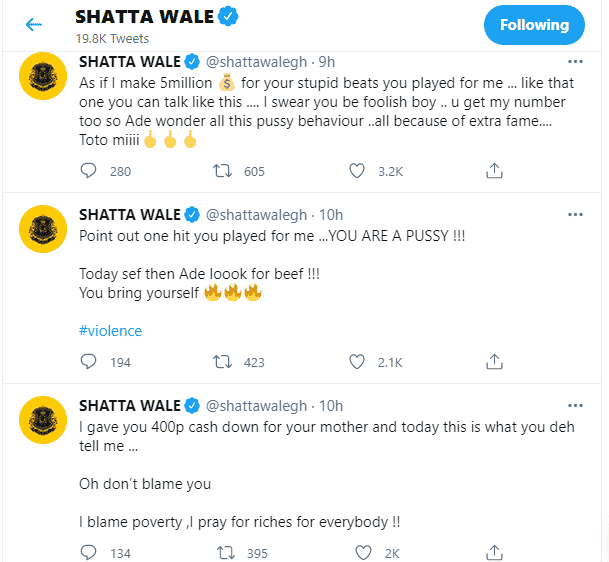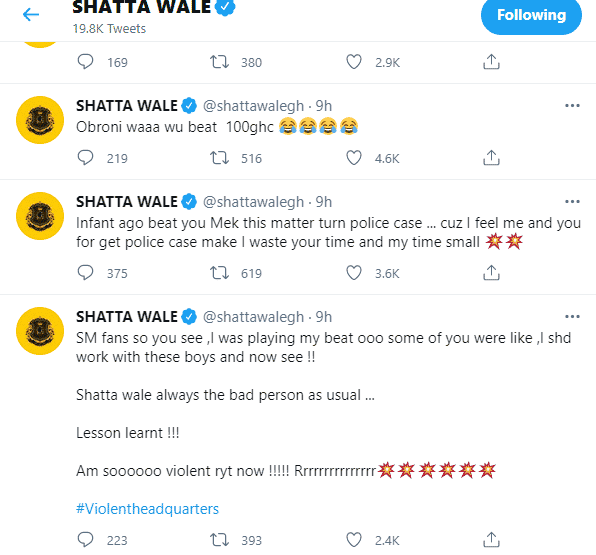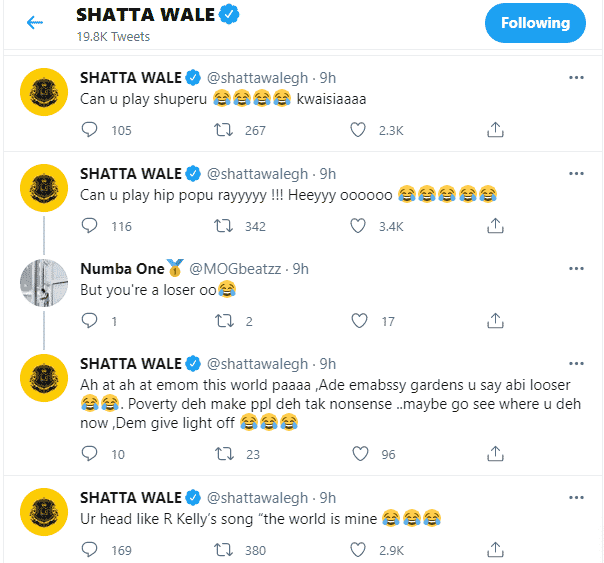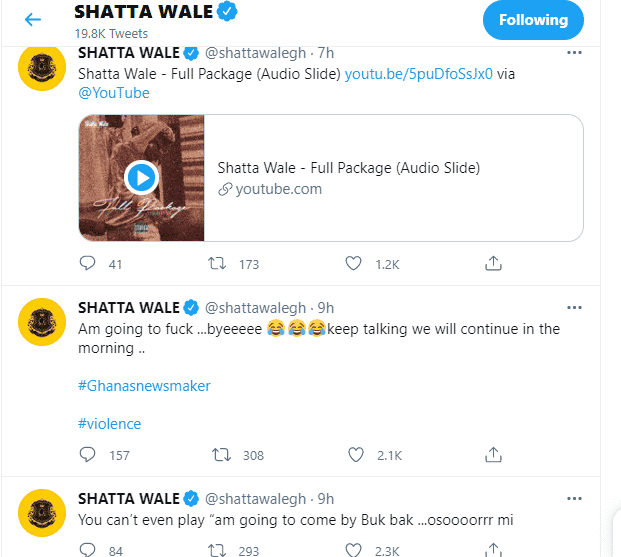 I hope you had a nice time going through the above article, subscribe to townflex.com by clicking on the bell icon 🔔 displaying in the bottom corner to receive our daily post updates first.