Snoop Dogg, a prominent figure in the realm of hip-hop, paid homage to another luminary as he presented the inaugural ASCAP Hip-Hop Icon Award to Dr. Dre.
This momentous occasion took place during a private gathering atop the London West Hollywood on Thursday, June 22. The event, known as ASCAP's 2023 Rhythm & Soul Music Awards, was enriched by this tribute.
In addition to commemorating the occasion, the ASCAP event served as a platform to honor the victors of the 2023 Rhythm & Soul Music Awards. Dr. Luke emerged triumphant as the Songwriter of the Year, having co-written chart-toppers like Latto's "Big Energy," Doja Cat's "Need to Know," and Nicki Minaj's "Super Freaky Girl."
Notably, the R&B/hip-hop song of the year went to Legendury Beatz, a talented Nigerian duo comprised of Uzezi Oniko and Okiemute Oniko.
Their collaboration on "Essence," the global sensation by Wizkid featuring Tems, garnered them this esteemed accolade. Warner Chappell Music, the song's publisher, was also recognized for their contribution.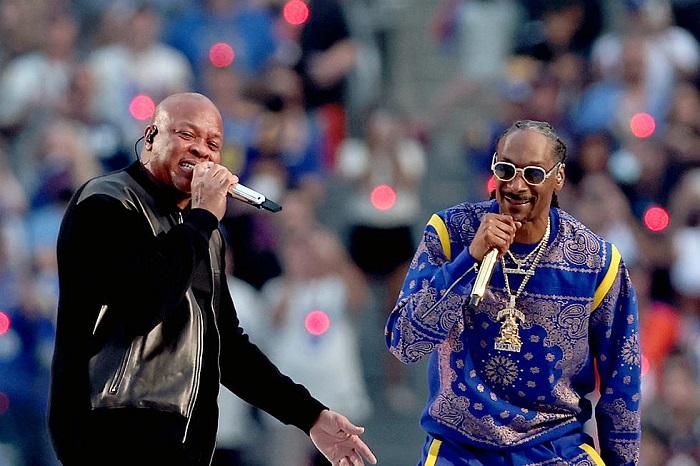 Moreover, Warner Chappell Music secured the prestigious title of Publisher of the Year, attributed to their involvement in renowned songs like Steve Lacy's "Bad Habit," Muni Long's "Hrs and Hrs," Jack Harlow's "First Class," and Beyoncé's "Break My Soul" and "Cuff It." The president of North America Warner Chappell Music Publishing, Ryan Press, graciously accepted these awards.
Related: R. Kelly Accuses Prison Of Neglecting His Medical Needs: "I'm Scared For My Life"
Dwan Hill's collaborative efforts were rewarded as he claimed the Gospel Song of the Year for co-writing CeCe Winans' impactful hit, "Believe for It." The song's publishing was also acknowledged, with Big Buddy Music and Fun Attic Music receiving due recognition.
This year has proven to be a momentous one for Dre, as he continues to accumulate significant honors. Back in February, during the Grammy Awards, he was bestowed with the inaugural Dr. Dre Global Impact Award by none other than LL Cool J. With a total of seven competitive Grammys throughout his career, Dre's influence and artistry have left an indelible mark.
Furthermore, in September of last year, Dre seized his first Primetime Emmy as a performer at The Pepsi Super Bowl LVI Halftime Show. The star-studded event featured the likes of Snoop Dogg, Mary J. Blige, Eminem, Kendrick Lamar, and 50 Cent. The mesmerizing halftime spectacle was recognized with an outstanding variety special (live) award.
For Latest , showbiz, celebrity gist, and gossip stories like this, feel free to visit our Entertainment Page.
Do you enjoy reading from Townflex? Do You Want Notifications From Us On Our Latest Post? If so, click on the Red bell icon below to subscribe to our feed, which will appear in your smartphone's notification after we publish a new article. You may also follow us on Twitter at @Townflexgh, Facebook at Townflex, Telegram at @Townflex, Townflex on Pinterest, Townflex on TikTok, Townflex on YouTube, and Townflex on Google News.