Award-winning Ghanaian rapper, Lukeman Ekow Baido, well known as Teephlow has called out rapper Guru for sabotaging him some years back and stole his shine.
Teephlow on Tuesday, February 9, 2021, took to his Twitter page where he called out the rapper [NKZ Guru] and reminded him of how he stole/robbed him of a simple chance to shine some years back when he released a song called "Alkaida" with a dance.
Already the NKZ rapper is in the trends making headlines following his beef with the entire Lynx Entertainment record label.
Teephlow commented on Guru's post while he addressing his issue with Lynx Entertainment following a statement from Kuami Eugene where the Lynx signed act revealed that he refused a feature from he [Guru] because he disrespected his Manager "Richie".
According to the Fante rapper who captioned Guru's post, he revealed that he [Guru] some time back robbed him of a simple chance to shine when the new Alkaida dance came, He did not get the chance to shine because Guru swore he never heard of his song and hence he claimed to be the originator.
The Fante rapper teased him saying "Karma is indeed a crazy dog", despite all that he made him go through, he is today getting stressed over a collabo, he also added that
"With all those hits u still robbed a brother of a simple chance to shine when the new akaida dance wave came! U swore u never knew of my song and even claimed u created the wave. Today udey stress over collabo. Smh. Karma is indeed a crazy dog." rapper Teephlow wrote.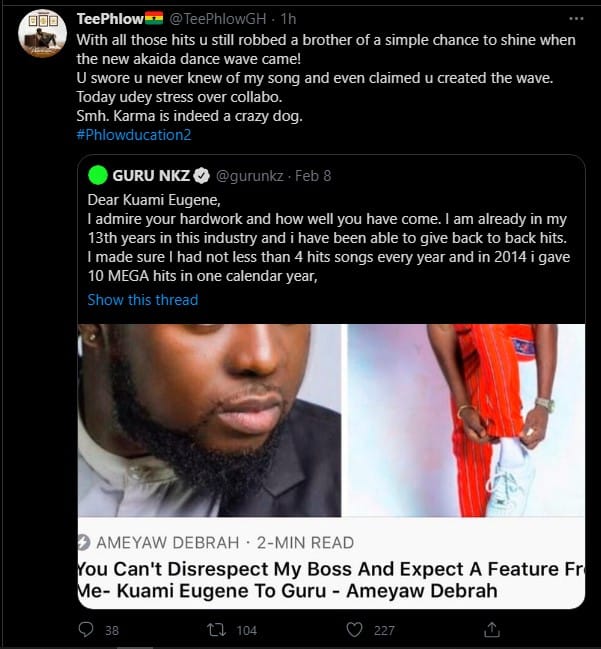 I hope you had a nice time going through the above article, subscribe to townflex.com by clicking on the bell icon 🔔 displaying in the bottom corner to receive our daily post updates first.