Today marks exactly 3 years following the demise of talented Ghanaian songstress Priscilla Opoku-Kwarteng, known by her stage name Ebony Reigns.
The death of the singer who was then singed under Bullet's Rufftown Record took everyone by shock as the whole country came to a total stand-still upon hearing the news.
It happened on the 8th of February 2018, Ebony Reigns was killed instantly in a car accident whilst returning from Sunyani to Accra after a visit to her mother alongside her longtime friend Franklina Yaa Nkansah Kuri and soldier Atsu Vondee who were also killed in the fatal accident.
The CEO of Rufftown Records, Ricky Nana Agyemang well known by many as Bullet who was her manager by then paid his respect in an Instagram post.
Bullet earlier today, took to his instagram account where he shared a photograph of the late Ebony captioned it with a touching message as he celebrates her on this day.
"It's been 3 years already! I am yet to believe, you are truly gone. You will forever be in my heart because in there you are still alive. Keep reigning queen👸🏾" ' he wrote.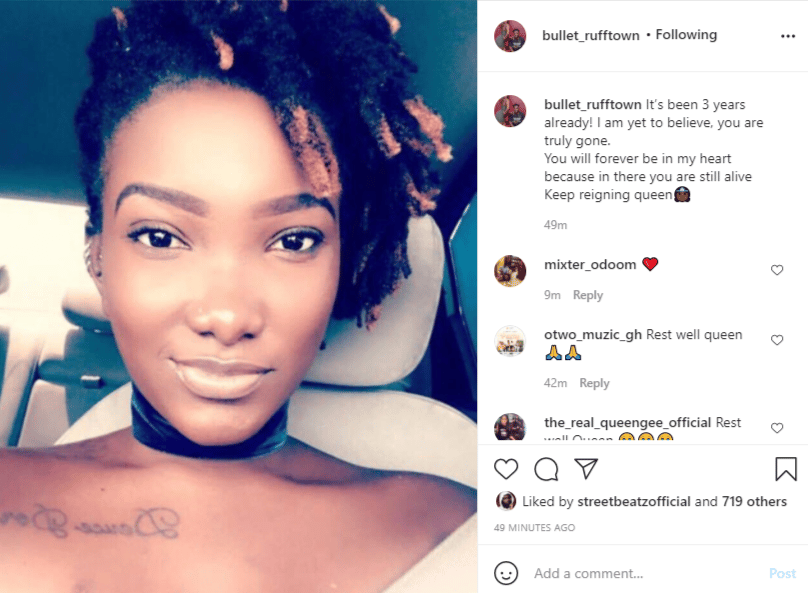 I hope you had a nice time going through the above article, subscribe to townflex.com by clicking on the bell icon 🔔 displaying in the bottom corner to receive our daily post updates first.