The Vice President of the United States, Kamala Harris, has indirectly condemned the anti-LGBTQ bill in Ghana, stating that it poses a threat to human rights.
The bill, known as the Promotion of Proper Human Sexual Rights and Ghanaian Family Values Bill, has caused widespread controversy in Ghana, with many people opposing its passage into law.
Speaking on her arrival in Ghana, Kamala Harris highlighted her support for freedom and equality for all people, including the LGBTQ community.
She emphasized that all human beings have rights and that she considers the issue of LGBTQ rights to be a human rights issue that should not be ignored.
Despite opposition from some Ghanaians, Speaker Alban Bagbin has indicated that the bill will be passed before the next elections.
The bill seeks to criminalize LGBTQ activities and relationships, with penalties that could include imprisonment and fines.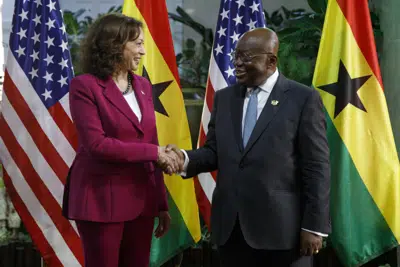 Many activists and human rights organizations have expressed concern about the bill, stating that it violates the fundamental human rights of LGBTQ people and could lead to discrimination and persecution.
Kamala Harris's statement adds to the growing international pressure on Ghana to reconsider the bill and respect the rights of all individuals.
This is not the first time that Kamala Harris has spoken out in support of LGBTQ rights.
During her time as Attorney General of California and later as a Senator, she was a vocal advocate for LGBTQ rights and was instrumental in legalizing same-sex marriage in California.
As the first female, African-American, and Asian-American Vice President of the United States, Kamala Harris has been a strong advocate for equality and human rights.
Her statement on the anti-LGBTQ bill in Ghana is a clear indication of her continued commitment to these values and her willingness to speak out against human rights abuses, even when it may be politically unpopular.