A woman from London, Ana Stanskovsky, has captured the internet's attention after she proudly announced on TikTok that she had her boyfriend's name tattooed on her forehead.
The 27-year-old's declaration, "Getting my [boyfriend's] name tattooed on my face," quickly went viral with nearly 19 million views.
In the video, Ana can be seen in the process of having her boyfriend, Kevin Freshwater's name inked just below her hairline in bold, giant, black lettering.
However, as the footage gained traction, viewers began to question the authenticity of the tattoo, speculating that it might be a prank.
Some viewers pointed out that there was no visible blood or redness, suggesting it was not a real tattoo.
However, Ana took to TikTok once again to clarify the situation and confirm that the forehead tattoo is indeed genuine.
"Yes, it's real," Ana affirmed online. "I can't even believe it myself that I did it. I know it's a little bit crazy. But I like to express my feelings, and I think if you really love someone, you should be able to show it off."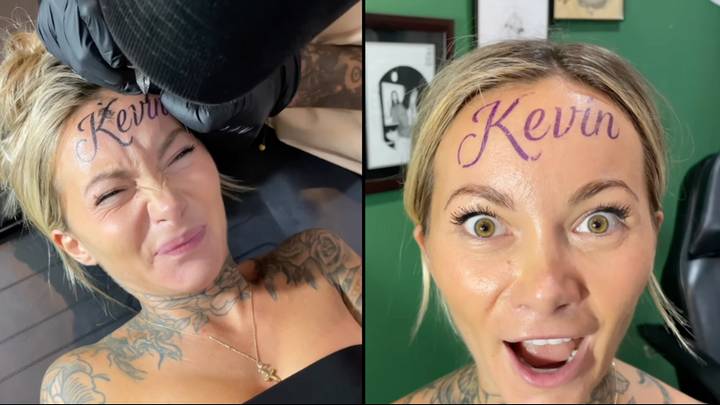 READ ALSO: Video of UNILAG students Marking Class Attendance with their fingerprint Causes Stir (+VIDEO)
Ana didn't stop at just showcasing her love for Kevin; she also advised others, saying, "If your girlfriend doesn't wanna tattoo your name on her face, you just need to find yourself a new girlfriend."
When asked about her future plans, Ana humorously responded, "If we break up, I will just have to find myself a different Kevin."
She further added, "I don't know why people think getting such a big tattoo on your forehead is a big deal… You can still find a job and stuff."
While Ana appears unapologetic about her choice, viewers were largely critical and expressed concern that she might regret the decision in the future.
The viral video has ignited debates about the extent people are willing to go to express their love and the potential long-term consequences of such impulsive decisions.
Only time will tell if Ana's unique declaration of love will stand the test of time or become a lasting reminder of a fleeting romance.