A historic moment in the annals of football is poised to be celebrated with the auction of one of Bobby Charlton's iconic 1966 World Cup jerseys, anticipated to fetch a staggering £100,000.
Worn by the former Manchester United legend during the Three Lions' unforgettable 2-1 victory over Portugal on July 26, 1966, this jersey witnessed Charlton's remarkable feat of scoring both goals in front of a captivated crowd of over 94,000 fans at Wembley Stadium.
This triumph proved pivotal as it propelled England to their inaugural and only World Cup glory, culminating in a legendary 4-2 victory over West Germany.
The auction of this historic jersey holds particular poignancy as it comes shortly after the passing of Sir Bobby Charlton at the age of 86. Signed by the football icon himself, the jersey will go under the hammer in Etwall, Derbys, commencing at £30,000 on November 14.
Read Also: Arteta's Goalkeeper Dilemma: Arsenal Contemplates Parting Ways with Ramsdale or Raya
Auctioneer Charles Hanson of Hansons Auctioneers is optimistic that it may surpass the initial estimate of £50,000 to £80,000, given its unparalleled historical significance.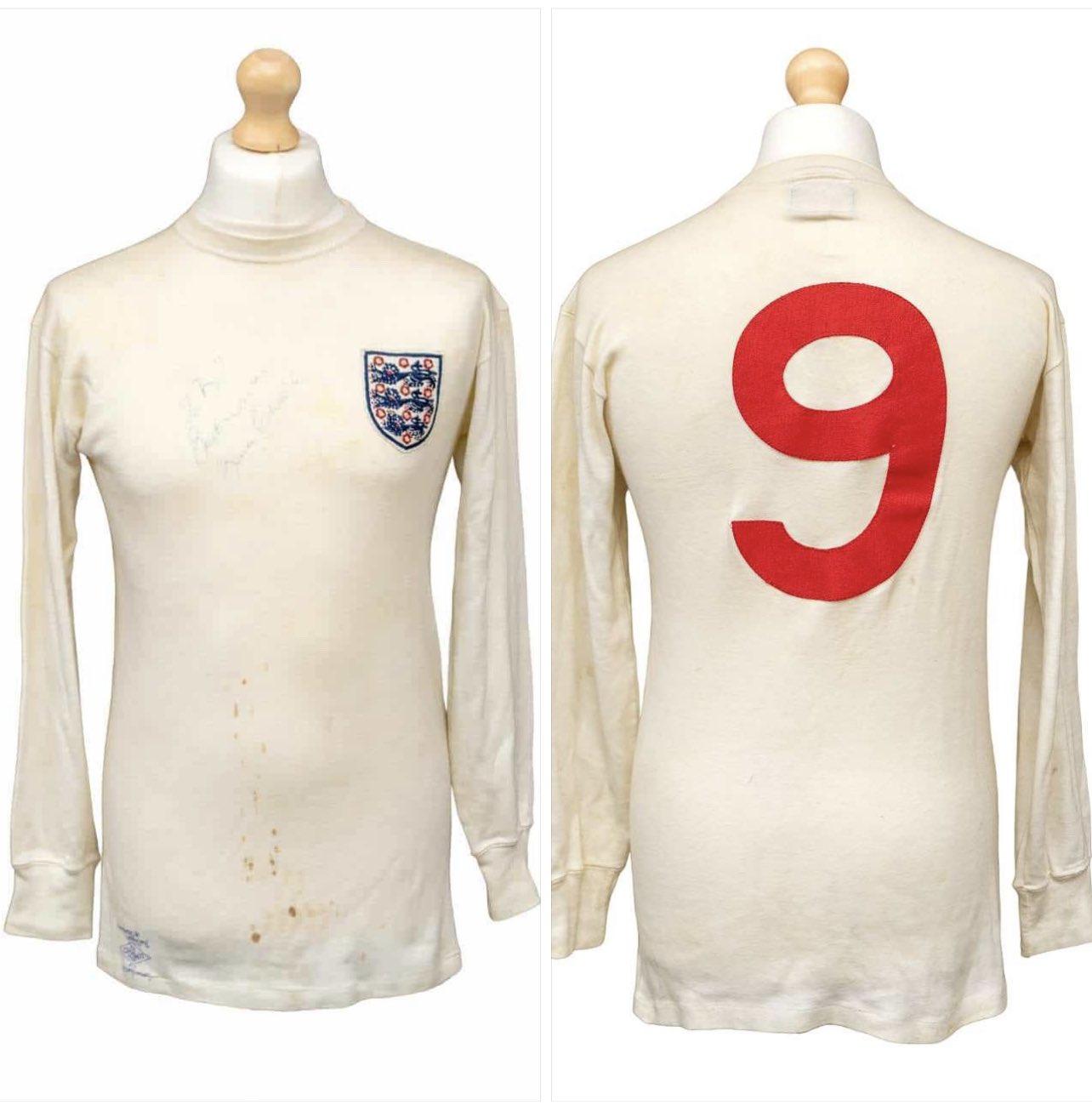 Hansons Auctioneers, based in Derbyshire, will host the auction of Charlton's cherished jersey on November 14, with an estimated value ranging from £50,000 to £80,000.
Remarkably, despite having an estimated worth of £10,000 to £15,000, the jersey was acquired for £9,200 at a London auction in 2000.
David Wilson-Turner, the head of sports memorabilia at Hansons, expects fervent interest from football enthusiasts, citing England's passionate football fan base.
He expressed, "England has some of the most passionate football fans in the world, and I'm sure many would love to own Sir Bobby's shirt."
"It's an ever-present reminder of what Sir Bobby did for his country."
"It deserves to excel because not only was it worn by one of the greatest England players of all time, it marks a magical moment in sporting history, the one and only time England have won the World Cup."
"I hope it's bought by the National Football Museum or, perhaps, Manchester United."
In October, the footballing world mourned the loss of Sir Bobby Charlton, a true icon of the sport, who passed away at the age of 86.
Sir Bobby's illustrious career saw him make 758 appearances for his club and earn 106 caps for his beloved country, leaving behind a legacy that will forever be etched in football history.
Tragically, his life was cut short due to an unfortunate accident—an accidental fall that resulted in an impact with a windowsill at the care home where he was receiving treatment for dementia, as confirmed by an inquest.
This incident marked the end of an era, leaving fans and admirers reflecting on the remarkable journey of a true football legend.
With the passing of Sir Bobby, Sir Geoff Hurst, the scorer of a legendary hat-trick in England's historic victory over West Germany, stands as the sole surviving member of that iconic 1966 World Cup-winning team.
The loss of Sir Bobby Charlton magnifies the historical significance of his cherished jersey, making it a poignant reminder of the golden era of English football.
In reflection of Sir Bobby Charlton's legacy, Sir Geoff Hurst expressed his thoughts: "We will never forget him & nor will all of football."
Source: http://Activityrun.com