This was a violent confrontation between two powerful rivals who have a history of animosity toward one another; we're not only referring about Chelsea vs. Tottenham here.
More emotion was felt during Thomas Tuchel vs. Antonio Conte than during any player or supporter interaction. That much adversity was plenty.
Through Harry Kane's 96th-minute header from a corner, Spurs managed to escape with a draw, but that does not even begin to tell the full story as Tuchel and Conte were both dismissed at the final whistle following an ugly altercation that followed what was supposed to be a polite, courteous handshake.
After Spurs' initial equalizer, both had already received bookings as they collided, igniting another brawl.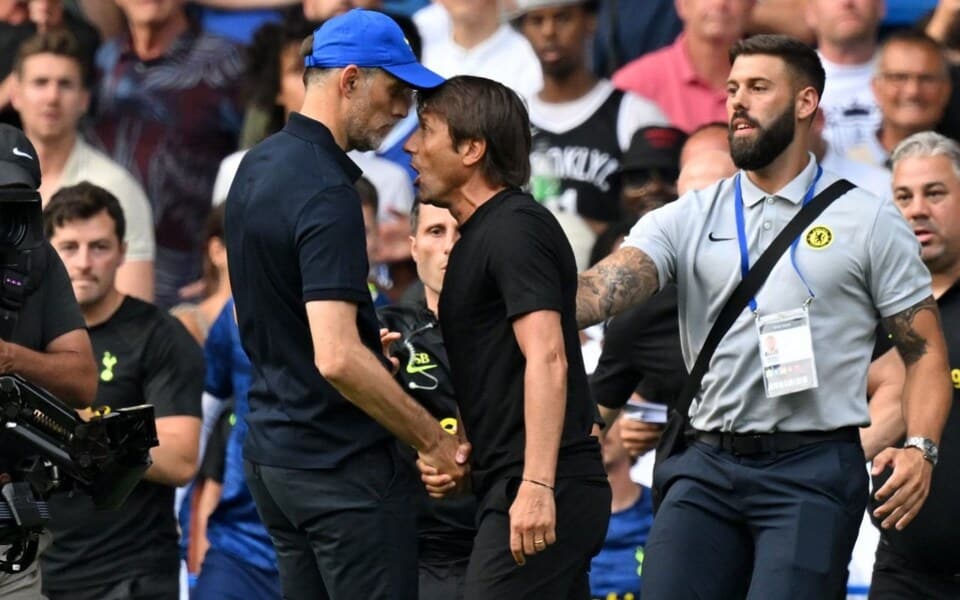 Tuchel wouldn't let go of Conte's hand and yelled at him to look him in the eye until players and staff crowded in to try to separate them, but the end proved to be too much for them.
A red card should have been issued earlier, just before Kane's goal, when Cristian Romero clearly pulled Marc Cucurella's hair at a corner. Ultimately, they were separated and dismissed by referee Anthony Taylor, who also should have done so.
Tuchel was furious at the match officials for what he saw to be a long list of mistakes, and Romero escaped punishment even after a Var check.
Despite Chelsea's dominance, there was really no difference between the teams, which was astonishing.
If Spurs came to the game with a statement to make, they succeeded even though the message was more one of resiliency than anything else.
Conte is a tenacious opponent who, like Tuchel, demands the same tenacity from his team. Definitely not "Spursy" in any way.
Despite Spurs having only one victory in 38 games at Stamford Bridge, Conte claimed that they had "demonstrated we are formidable opponents." Nevertheless, the victory nevertheless felt good to Spurs.Spurs were in trouble as Chelsea took close to 70% of the possession.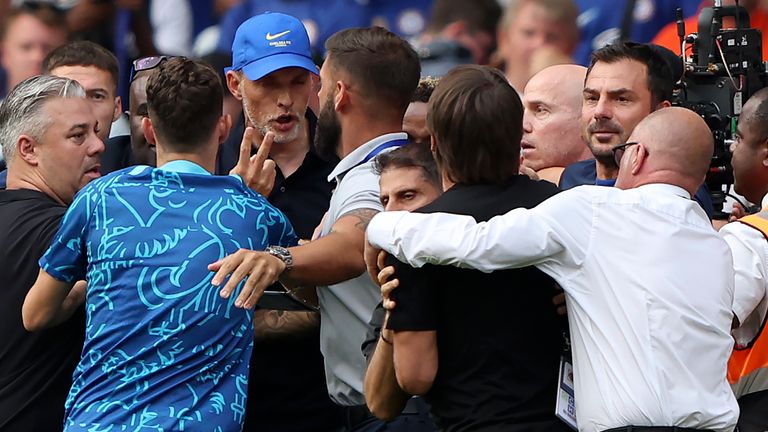 The only respite came from the drinks break midway through the half, save from the one time Ryan Sessegnon's shot was blocked by Edouard Mendy, springing Chelsea's high defensive line.
Chelsea and Tuchel's sole gripe has persisted in being the fact that, given their supremacy, they did not score more goals.
Finally, Conte intervened, switching to a 4-4-2 formation with Richarlison alongside Kane, who missed an opportunity to equalize after being passed through by Eric Dier. Before the incident erupted, Sterling also crossed the line.
Rodrigo Bentancur appeared to have fouled Havertz in the middle of the Spurs' zone, but Taylor continued to play, and the visitors eventually scored. Chelsea was furious, even when replays revealed
Bentancur only had the tiniest of touches on the ball, yet Chelsea were inconsolable despite this.
The goal was actually scored as a result of Jorginho losing control of the ball in his own end. Pierre-Emile Hojbjerg was set up and fired a low shot from 20 yards out that went unnoticed by Mendy and found the back of the net.
The fact that the technical spaces at Stamford Bridge are so small did not help when the managers erupted.
It seems Chelsea would be angry when Havertz missed with a volley barely seven yards from Reece James's cross, but Conte was the one who was most frustrated as he watched his team concede once more while urgently trying to make further substitutions and switch to a 3-4-3.
The ball was lost by Dejan Kulusevski after a pass was swept toward Sterling. As soon as the score reached two to one, Sterling turned the ball wide to an unguarded James, who then beat Lloris with a shot.
Under Conte, who continued to nag and demand from the sidelines, Spurs have now demonstrated that they are unique. Ben Davies' corner was pushed over by Mendy in the last seconds of regulation time.
Spurs were able to escape with a point as Kane climbed in close range after Romero avoided punishment for the hair pull.
Wild scenes followed the score, with players sprinting for the away supporters' arms, Romero yelling in James' face, and Chelsea substitute Mateo Kovavic squaring out with Conte after the manager ducked down the tunnel. then came the handshake.