Calls are being made for Italian police to punish Kanye West's new 'wife' Bianca Censori following her latest eye-popping display in the conservative Catholic country.
The Australian beauty, 28, has been fuelling controversy in Italy for 'going around in risky revealing outfits over the past month. On Sunday, she commanded attention when she stepped out for dinner with Kanye, 46, in an outrageous nude catsuit.
Bianca went braless in the skintight all-in-one and at some points was forced to cover her nipples with a black cross-body bag, while Kanye hid under a black snood teamed with a baggy black jacket and trousers.
Online critics have since implored local authorities to punish Bianca for her wardrobe choices. 'It's surprising she hasn't been arrested. Italy is much more conservative, in this case rightly so!' one user wrote.
Many argued that Bianca's latest look constitutes 'public indecency,' a charge for which comes with a hefty fine.
Another critic agreed: 'How about police in every country arrest anyone who is nude? It's called indecency… Tired of being forced to see nude women and should be illegal for children to see this,' someone wrote.
According to major tourism website CIU Travel, locals find it 'offensive' to see visitors 'wandering the streets in varying states of undress.' It is also against the law to do so in many local ordinances, and can result in fines.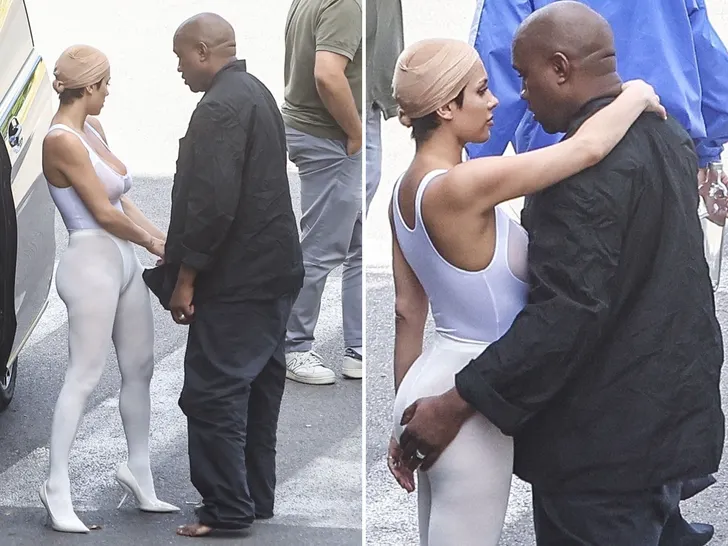 Bianca arrived in Italy with Kanye earlier this month, and has stepped out on several occasions with her bare breasts clearly visible beneath see-through mesh outfits.
Italian locals have since branded the Kim Kardashian lookalike's outfits 'disrespectful' on social media, with some saying 'immodest' Censori and West weren't welcome in a country known for its conservative Catholic heritage.
Users from other parts of the world echoed this sentiment, with one commenting: 'Planning a trip to Italy, I have read several times that Italians are very fashionable and are fairly conservative in their clothing choices. Wonder what they think of this exhibitionist?'
Kanye and Bianca wed in a private ceremony in Beverly Hills in January, about two months after the rapper's divorce from Kim Kardashian was finalized. However, the legality of the union is in question, as they did not file a marriage certificate.
Bianca has a degree in architecture and worked for West's design company, Yeezy prior to their getting together.
She joined the company in 2020, according to Marie Claire. It's unclear whether she still works at Yeezy.
For an extensive collection of celebrity profiles and in-depth information, including net worth details, visit our Celebrity Page.
Do you enjoy reading from Townflex? Do You Want Notifications From Us On Our Latest Post? If so, click on the Red bell icon below to subscribe to our feed, which will appear in your smartphone's notification after we publish a new article. You may also follow us on Twitter at @Townflexgh, Facebook at Townflex, Telegram at @Townflex, Townflex on Pinterest, Townflex on TikTok, Townflex on YouTube, and Townflex on Google News.