International music icon Kanye West found himself in an unexpected spotlight during a serene water taxi ride with his wife, Biance Censori, in the enchanting city of Venice.
The couple, known for their extravagant fashion statements, encountered a "wardrobe malfunction" that had heads turning and cameras clicking.
On Monday, August 28, the celebrity couple chose to explore the iconic Venetian waterways via a traditional water taxi.
Little did they know that this leisurely ride would transform into a light-hearted spectacle. As they settled into their seats near the back of the vessel, Kanye West's entire backside was inadvertently exposed, causing both surprise and amusement.
Amidst the grandeur of Venice's architecture and romantic ambiance, the incident was a humorous yet endearing reminder of the unpredictability of everyday life.
Kanye, seemingly unperturbed, didn't make any immediate effort to conceal the unexpected "reveal," sparking speculation about whether he was aware of the situation or simply embraced the moment's candidness.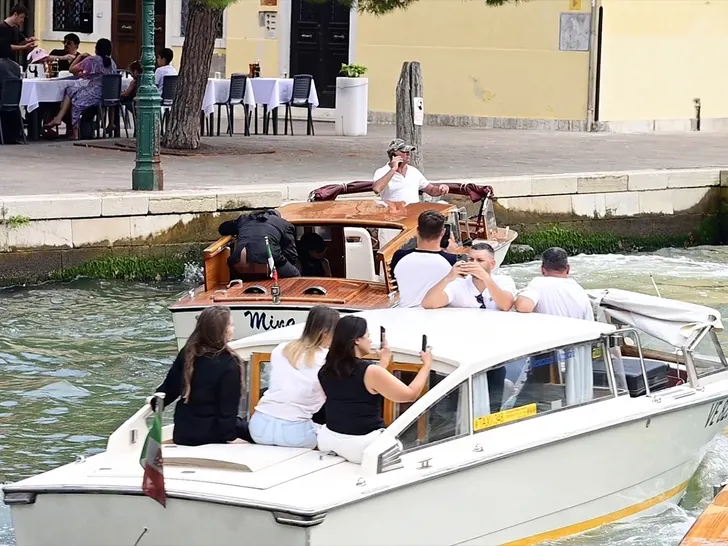 The incident took social media by storm, with fans and followers sharing snapshots and comments with a mix of surprise and humor.
It's a far cry from West's recent fashion choices, where he has been seen in elaborate and eclectic ensembles, prioritizing layers and fabric to create visually striking looks.
The Venice wardrobe malfunction, although unexpected, demonstrated the couple's relaxed and unfiltered side.
This incident is a reminder that even global superstars can find themselves caught in relatable and amusing situations. It showcases a candid aspect of their relationship that resonates with fans on a personal level.
As Kanye and Censori continue their exploration of Italy, this Venice escapade will likely remain a lighthearted and memorable chapter of their journey.
The incident has not only provided entertainment but also highlighted the couple's authenticity and ability to embrace life's unexpected moments.