Lionel Messi, despite participating in just four league matches for Inter Miami, has made it to the list of nominees for Major League Soccer's 2023 MVP Award.
Upon his arrival in Miami in July, the Argentine star made an immediate impact by helping his team secure the Leagues Cup trophy.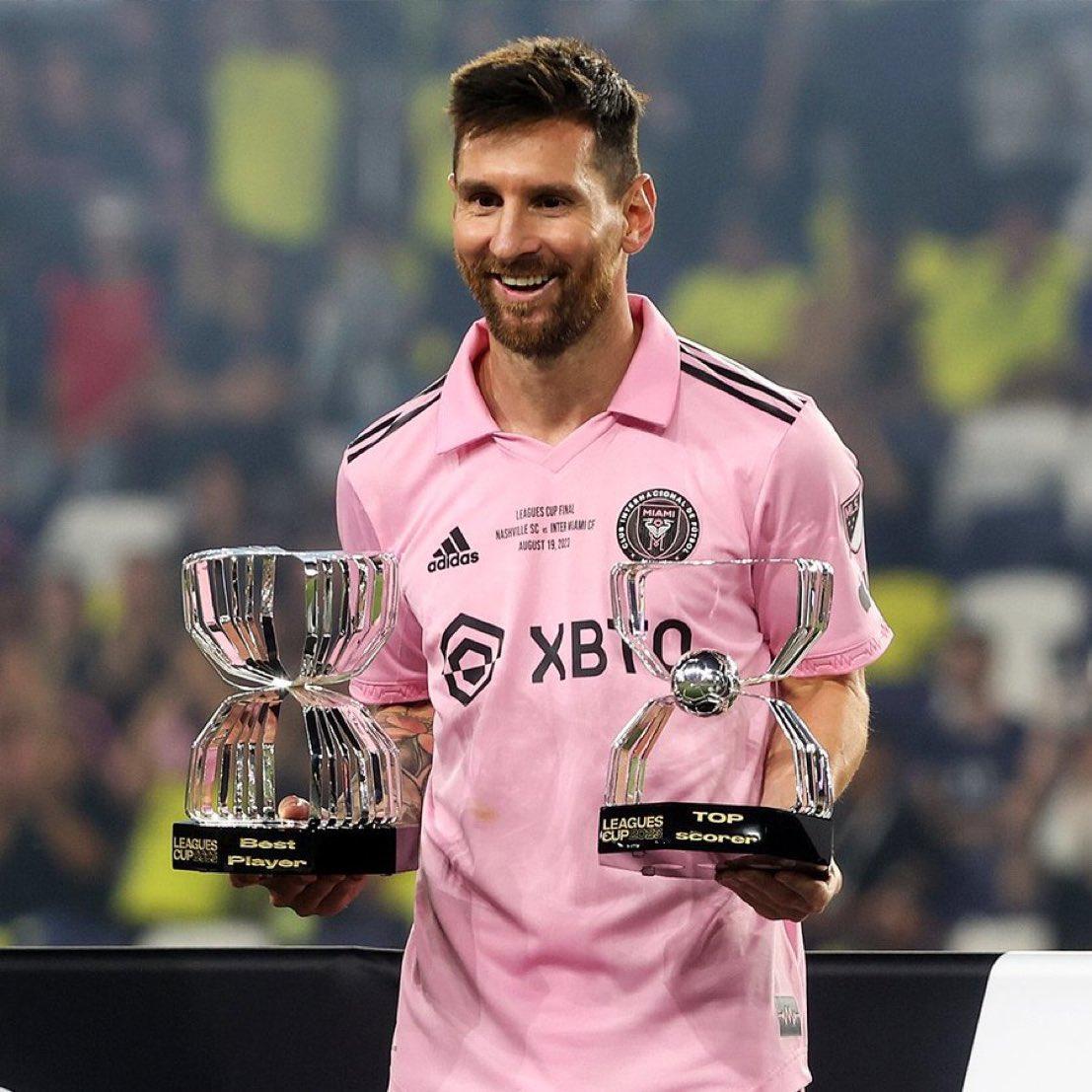 During the regular league season, Messi started in three matches and made one appearance off the bench, missing the last four games due to injury.
Nevertheless, he has been recognized among the 30 contenders for the 'Landon Donovan MLS MVP' award, sharing the spotlight with his Miami teammate Sergio Busquets.
Additionally, he is among the 27 players shortlisted for the Newcomer of the Year award.
Read Also: Newcastle Stuns PSG: Historic 4-1 Victory in Champions League Thriller!
While some fans have questioned Messi's nomination, considering that other players in the league have participated in as many as 32 MLS games this season, there is no denying the commercial influence he has brought to MLS.
His presence has significantly boosted jersey sales, and an Apple TV docuseries about his arrival is set to be released soon.
The majority of Lionel Messi's appearances in North America have occurred in the League's Cup and US Open Cup, where he played a pivotal role in leading his team to victory. Out of the 11 games he participated in, he managed to score 11 goals, with only one of them in the league.
In the MLS, he contributed with a single goal and two assists.
As reported on Major League Soccer's official website, Messi's teammate Sergio Busquets has also been nominated for both the MVP and Newcomer of the Year awards.
MLS clubs have the liberty to nominate two players for each category, and Inter Miami chose to nominate these former Barcelona stars.
Among the notable nominees for the MLS MVP award are Lionel Messi's fellow Argentina teammate Thiago Almada, his former Barcelona colleague Riqui Puig, and the current leading scorer, LAFC's Denis Bouanga.
2023 MLS MVP Nominees in Full

Luciano Acosta (FC Cincinnati)

Thiago Almada (Atlanta United)

Artur (Houston Dynamo)

Christian Benteke (D.C. United)

Andre Blake (Philadelphia Union)

Dénis Bouanga (Los Angeles FC)

Roman Bürki (St. Louis City SC)

Sergio Busquets (Inter Miami)

Julián Carranza (Philadelphia Union)

Mathieu Choinière (CF Montréal)

Cristian Espinoza (San Jose Earthquakes)

Jesús Ferreira (FC Dallas)

Stefan Frei (Seattle Sounders)

Ryan Gauld (Vancouver Whitecaps)

Giorgios Giakoumakis (Atlanta United)

Carles Gil (New England Revolution)

Cucho Hernández (Columbus Crew)

Héctor Herrera (Houston Dynamo)

Lionel Messi (Inter Miami)

Jordan Morris (Seattle Sounders)

Hany Mukhtar (Nashville SC)

Keaton Parks (New York City FC)

Riqui Puig (LA Galaxy)

Alan Pulido (Sporting Kansas City)

Emanuel Reynoso (Minnesota United)

Santiago Rodriguez (New York City FC)

Jonathan Sirois (CF Montréal)

Karol Świderski (Charlotte FC)

Erik Thommy (Sporting Kansas City)

Facundo Torres (Orlando City)


Lionel Messi has also been nominated for the Newcomer of the Year award which is specifically designated for a player with previous professional experience who made their MLS debut in 2023.
Voting for these awards will commence on October 10 and continue until October 23. Only current MLS players, coaches, and a select group of journalists are eligible to participate in the voting process.
If Messi manages to maintain his fitness for a substantial portion of the 2024 season, he is likely to become a frontrunner for the MVP and Newcomer awards.
However, in the context of the 2023 season, it has been a peculiar year in this already unconventional league, and even by MLS standards, recent developments have been quite unusual.
Messi has not been in action for Inter Miami since he was forced to exit a match just 37 minutes into last month's 4-0 victory over Toronto.
Subsequently, he missed matches against Florida rivals Orlando City, a loss in the US Open Cup final against the Houston Dynamo, another draw against New York City, and most recently, a humbling 4-1 defeat to the Chicago Fire on Wednesday night.
The latest result dealt a significant blow to Inter Miami's slim chances of making it to the playoffs, as the team now finds itself five points adrift of a wildcard spot with only three matches left to play.