Maguire found himself at the center of the action during the Three Lions' 3-1 victory at Hampden Park, with an unfortunate own goal resulting from Andy Robertson's cross in the 68th minute.
Harry Maguire's fortunes didn't improve much after he inadvertently scored an own goal against Scotland.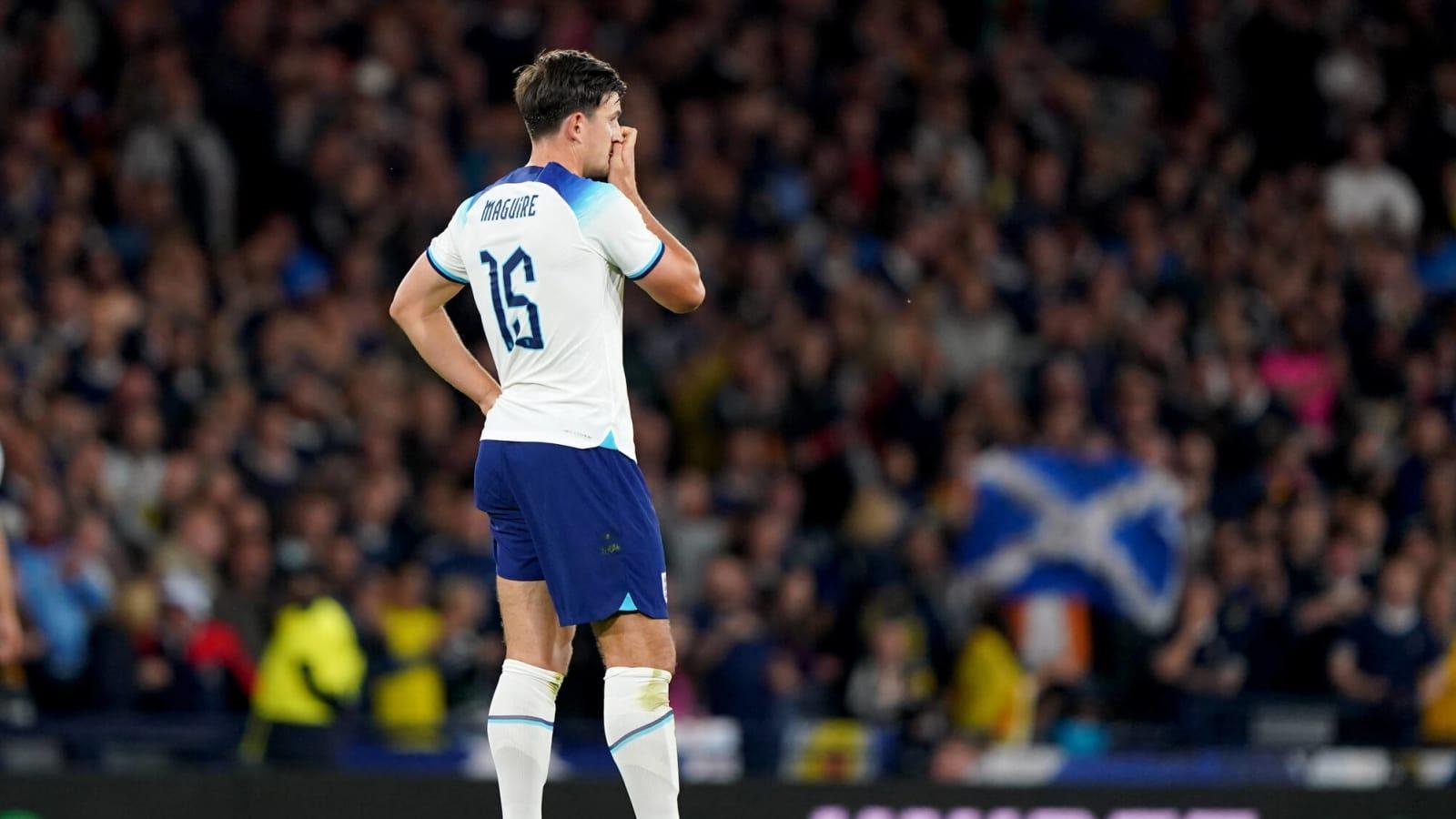 England enjoyed a comfortable 2-0 lead at halftime in their 150th-anniversary match at Hampden Park, courtesy of quick goals from Phil Foden and Jude Bellingham.
However, the margin was narrowed in the 68th minute when Maguire, who remained at Manchester United after the transfer window, replaced Crystal Palace's Marc Guehi at halftime.
He formed a defensive partnership with Brighton's Lewis Dunk but unintentionally assisted Scotland in getting back into the game.
Maguire had been on the field for less than half an hour when Scotland's Andy Robertson delivered a cross from the right-hand side. Unfortunately, Maguire couldn't quite adjust his position, and his attempted left-footed clearance resulted in the ball spinning past the helpless Aaron Ramsdale.
Harry Maguire scored an own goal against Scotland 🏴󠁧󠁢󠁳󠁣󠁴󠁿

England vs Scotland ended in a 3-1 victory for the English ✅ pic.twitter.com/OJK0X9LkCE

— Forberge (@forbergenews) September 13, 2023
Fortunately, the mistake didn't have serious consequences, as England's captain Harry Kane swiftly reestablished their two-goal lead with a precise finish from a pass by Bellingham.
Indeed, things haven't been going well for Maguire lately, as he was recently stripped of the captain's armband at Old Trafford and was also involved in an error leading to Ukraine's equalizer on Saturday.
Read Also: Germany's National Team Hopeful for Klopp, But Liverpool Contract Looms
Following the game, several fans expressed their opinions about Maguire's performance on Twitter. Here are some of the comments:
1. One fan humorously remarked, "I've never witnessed a player more dedicated to banter than Harry Maguire. Generations to come will study his art."
2. Another fan quipped, "Steve Clarke's bold move of bringing Harry Maguire into the game paid off."
3. A third comment read, "Harry Maguire's most recent two goals were scored for Sevilla and Scotland."
4. A more critical user did not mince words, saying, "It's embarrassing for everyone involved that Harry Maguire plays for Manchester United Football Club. A complete mess."
5. Lastly, one individual posted, "Harry Maguire is an absolute disaster. A walking catastrophe. The butt of jokes. Completely devoid of any talent or natural defensive instincts."
However, Southgate vehemently defended his player following the match and directed his criticism towards commentators and pundits for their treatment of Maguire.
During an interview with Channel 4, the England manager stated: "It's a consequence of ridiculous treatment of him for a long period of time."
"It's a joke, I've never known a player treated like he is, not by the Scottish fans, by our own commentators, pundits, whatever it is. It's beyond anything I've ever seen."
"He has been an absolute stalwart for us in the second most successful English team for decades, he has been an absolutely key part of that.