In a video that has swiftly gained traction across various online platforms, an unidentified young man can be seen shedding tears and expressing deep remorse over his recent acquisition of a counterfeit iPhone 13 Pro Max.
The video, which has now become a trending topic, sheds light on the pitfalls of falling for fraudulent deals in the quest for the latest gadgets.
The clip captures the young man leaning against a wall, his face etched with a palpable sense of despair. On his lap rests an imitation iPhone, a stark contrast to the genuine device he had hoped to own.
In the background, the boisterous laughter and taunts of his roommates can be heard, as they mockingly remind him of the warnings he received against making the ill-fated purchase.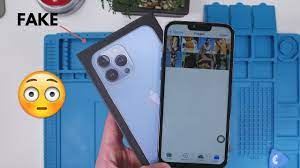 Despite being advised against the transaction, the young man chose to disregard the well-intentioned counsel he had received. The consequences of his decision are evident in the heart-wrenching footage, where he openly bemoans his choice and the financial loss he now faces.
Accompanying the video is a solemn caption penned by the victim himself, a stark reflection of his emotions at the time of posting. "I just wasted all my money," he laments, encapsulating the deep sense of regret that accompanies such situations.
This incident serves as a stark reminder of the importance of vigilance when engaging in online transactions and making purchases.
Watch video below:
READ ALSO: I wanted to get back at my cheating husband, so I slept with another man: Wife
The allure of owning the latest and most coveted gadgets can sometimes blind individuals to potential red flags.
The video has sparked conversations about consumer awareness, the prevalence of counterfeit products, and the need to exercise caution while navigating the digital marketplace.
As the video continues to circulate and gather attention, it underscores the impact that a simple, candid moment can have in highlighting broader issues and imparting valuable lessons.