Nigerian music sensation, Davido, has once again taken the world by storm with his latest extravagant fashion statement – diamond-encrusted dental grills.
The artist, known for his opulent taste, has joined the league of celebrities who are turning heads with this dental jewelry trend.
Dental grills, also referred to as gold teeth or fronts, have become a cultural phenomenon, particularly within the music industry.
These ornamental accessories are prosthetic metal caps that can cover a portion or even the entirety of a tooth, often adorned with precious gems or designs.
What was once a niche trend has evolved into a mainstream fashion statement, and Davido's recent video showcases his teeth bedazzled with five dazzling diamonds.
The video, which surfaced on August 21, captured Davido proudly displaying his new dental bling. The procedure, reportedly carried out in the United States, came with a hefty price tag of approximately $100,000. The jaw-dropping transformation further accentuates the artist's unique style and penchant for luxury.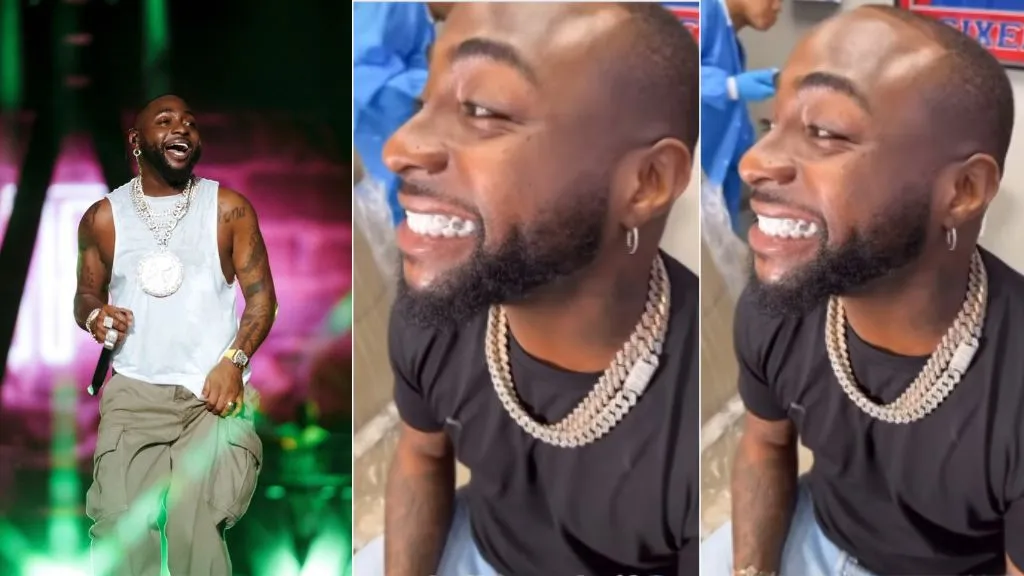 Davido is not the first Nigerian artist to embrace this trend. Renowned names like Burna Boy, Wizkid, Zlatan, Tiwa Savage, and Rema have also sported gold and diamond grills, contributing to the trend's rise in popularity. It seems the music industry's elite are competing not just for chart dominance but also in the realm of extravagant fashion.
This lavish dental upgrade is just the latest in a series of high-profile purchases by Davido. The artist recently made headlines for gifting his wife, Chioma, a 2023 Maybach Virgil Abloh car worth a staggering $530,000. Clearly, Davido's flair for the extraordinary extends beyond his music.
As celebrities continue to push boundaries with their style choices, it remains to be seen how this dental jewelry trend will evolve and influence mainstream fashion.
For now, Davido's diamond grills serve as a sparkling reminder that when it comes to making a statement, he's a force to be reckoned with – both on and off the stage.
Davido puts diamonds in his teethpic.twitter.com/TTwreYQlXO

— Examiners Club. (@examinersclub) August 24, 2023