Latest Entertainment News, Ghana (Townflex) – Ghanaian Afrobeats and Dancehall sensation Shatta Wale, had to cancel his highly anticipated musical concert at The Hangar in Wolverhampton, England.
This unfortunate decision was confirmed in a statement released by Shatta Wale's team and shared on social media on October 31, 2023. The statement provided insight into the reasons behind the cancellation.
The concert, originally scheduled for November 4th, had to be called off due to unforeseen circumstances. The primary factor cited was Shatta Wale's "Luxurious Demand," which the event promoters were unable to fulfill.
Apparently, Shatta Wale had specific requirements and demands befitting an artist of his stature, but these proved to be unfeasible for the promoters to meet, leading to the termination of the agreement as initially planned.
Related: This Is Tema Festival 2023: Sarkodie Announces Return, Shares Date
In light of this disappointing turn of events, the statement expressed sincere apologies to Shatta Wale's global fan base, affectionately known as the Shatt Movement family.
Additionally, it was announced that refunds would be issued to all individuals who had purchased tickets for the event. Details regarding the refund process will be disclosed in the coming days.
Read the complete statement below.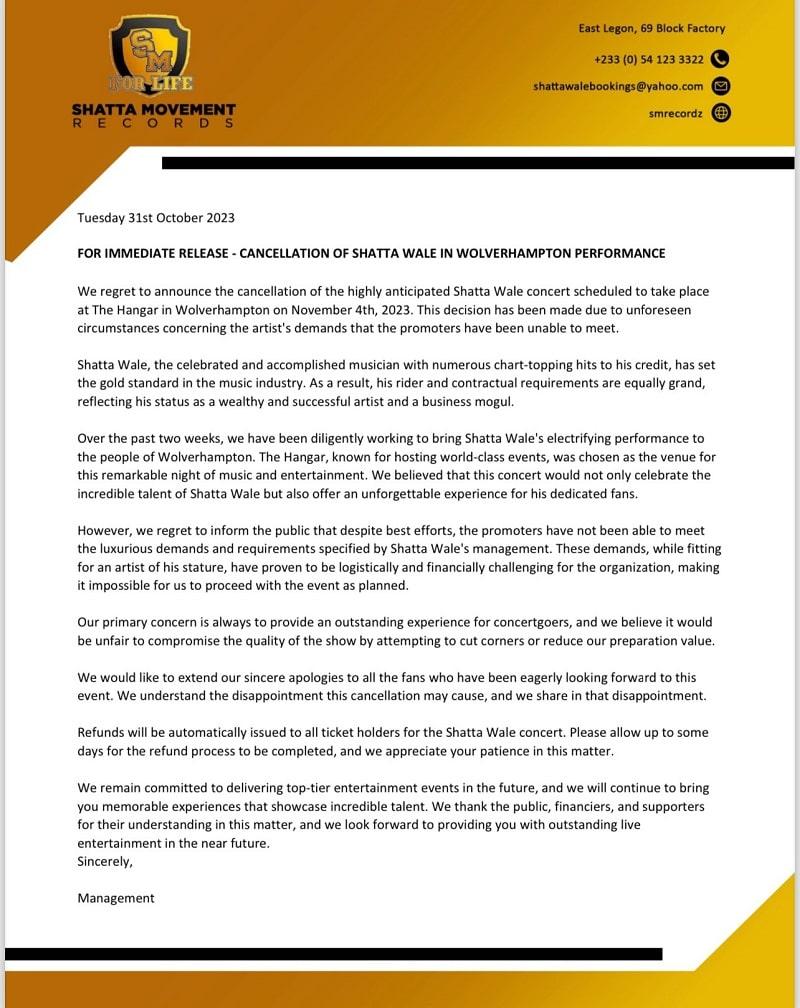 The current Artiste Of The Year Winner at the just ended 2023 Ghana Music Awards UK, Shatta Wale is currently in the music charts making waves with his latest music release, 'Incoming', a song featuring Nigerian music producer and singer released on October 17, 2023.
Incoming by Shatta Wale has garnered a total audio stream of 578,048 on YouTube as at the time of this very publication.
Visit our Latest Entertainment News Page for the latest updates on Showbiz, Celebrity Gossip