Zeepay Ghana Limited has incurred fines from the Bank of Ghana (BoG) for breaching Clause 7.3(a) of the Inward Remittance Foreign Exchange Act.
This clause mandates the settlement bank to utilize the average interbank exchange rate published by the Ghana Association of Banks or as prescribed by the Bank of Ghana for converting settlement funds into the local currency.
Furthermore, the Bank has suspended Zeepay Ghana Limited's Forex License from November 27, 2023, to December 8, 2023, citing violations of sections 3(1) and 15(3) of the Foreign Exchange Act, 2006 (Act 723).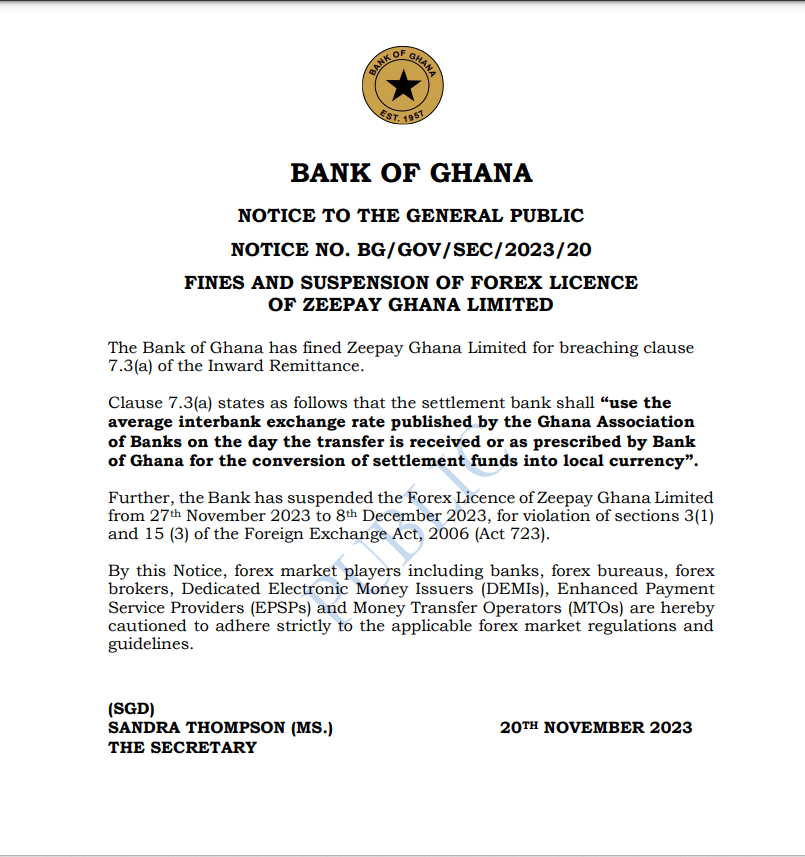 In a statement on Monday, November 20, the Regulator cautioned all forex market players, including banks, forex bureaus, forex brokers, Dedicated Electronic Money Issuers (DEMIs), Enhanced Payment Service Providers (EPSPs), and Money Transfer Operators (MTOs) to strictly adhere to applicable forex market regulations and guidelines.
For more updates, visit our Latest Business News Page