Erik ten Hag expressed his confidence in David de Gea, praising the goalkeeper as "brilliant," despite his costly error in Manchester United's 1-0 loss to West Ham United on Sunday.
During the first half of the game at London Stadium, United had more promising opportunities, but eventually conceded when De Gea was unable to prevent a slow, bouncing shot from Said Benrahma, even though he made contact with the ball. The ball ended up in the bottom corner of the net.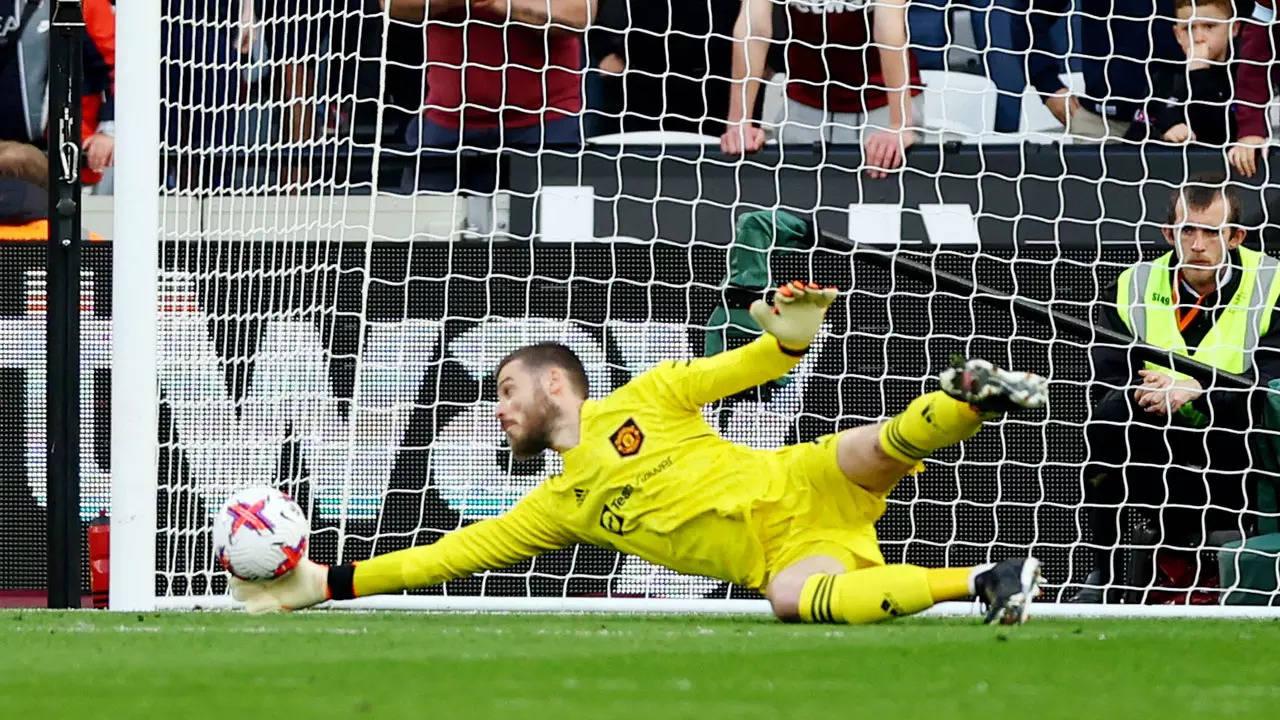 "I think we all know, David knows also, it's a mistake, but he's a brilliant goalkeeper," Erik Ten Hag said.
"We may not be in this position when he didn't show this shape over the course of the season."
"Mistakes are part of football and we have to live with it and we have to bounce back as a team."
There was a possibility that United would have given away a penalty when Victor Lindelof's arm made contact with a ball from Benrahma that was headed towards the box.
However, the VAR chose not to award a penalty as the first half came to a close.
De Gea managed to redeem himself to some extent early in the second half by making an excellent save to stop Tomas Soucek from scoring.
However, the goalkeeper appeared unsteady once again when Soucek scored with a header in the 73rd minute, only to have the goal disallowed due to an offside call.
United's defeat to West Ham was their second consecutive loss, having previously lost 1-0 to Brighton and Hove Albion.
Their once comfortable path towards securing a top-four spot and qualifying for next season's Champions League is now in danger.
As it stands, United are currently in fourth place in the Premier League, having amassed 63 points from 34 games.
They are just one point ahead of Liverpool, who have won their last six matches, and United still have a game in hand over them.
However, United's game in hand is against Chelsea, who have had a difficult season but possess the quality to take points from United.
"We have to keep going and we have to show character," Ten Hag added.
"It is only four games and you need the energy. It is in your head, make sure it is not in your legs. Get ready for the games, clear head, energy, focus, and go."
"I said to the players: 'Don't feel sorry for ourselves.' We want to be in the Champions League, the Champions League is our life, and then you have to suffer and you have to sacrifice and, especially, you have to believe."
"As I just said in the dressing room… come on, [mistakes] can happen, in this season we've had some terrible setbacks and every time we bounced back so, once again, show the character and go on."
While Erik ten Hag and United look to bounce back, David Moyes has stated that West Ham can utilize their victory on Sunday to gain momentum ahead of their Europa Conference League semi-final against AZ Alkmaar on Thursday.
"We needed a top performance and tonight I felt we were getting much closer to it," West Ham manager Moyes said.
"We were better with the ball, harder working, more compact when we needed to be because we played a really good team tonight and we'll play another one on Thursday in AZ, as you don't play bad teams in European semi-finals either. Everyone's got to be ready to help us get to a final."