In a grand and unconventional ceremony in mid-September 2023, Ugandan businessman and traditional healer, Habib Nsikonenne, tied the knot with seven brides, including two sisters.
The extravagant event, which took place in Namasengere village, Mukono District, Uganda, has captured the attention of many.
According to sources, each bride received stylish makeovers at local salons, transforming them into radiant and beautiful brides.
They then boarded specialized Super Custom vans, each adorned with personalized plates bearing the bride's name.
As a remarkable gesture, Nsikonenne gifted each of his wives a brand new car, with the respective bride's name proudly displayed on the vehicle.
The businessman commended his brides for their loyalty and harmony, emphasizing that jealousy was non-existent in their relationship.
READ ALSO: ASEM! Photos of the lady in leaked Obuasi atopa video Drop (See Details)
Nsikonenne explained, "I introduced them separately and decided to wed them all at once to create one big, happy family. I am still a young man, and in the near future, God willing, I cannot say this is the end of it."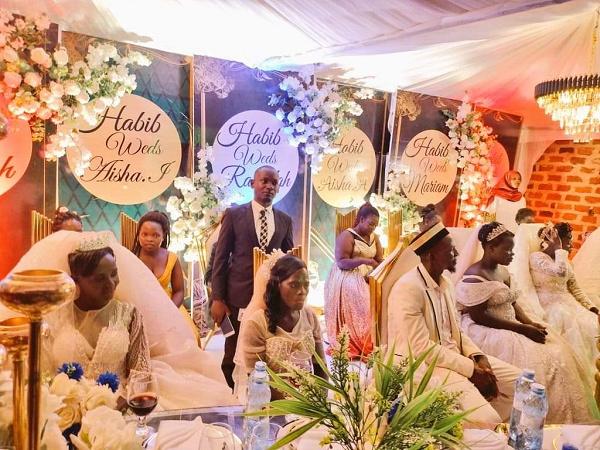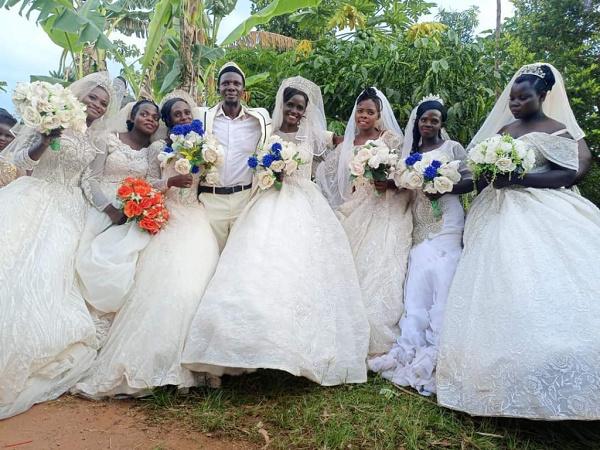 The union of Nsikonenne and his seven wives came together rapidly, with swift introductions to their respective families within a week, followed by a solemn exchange of wedding vows.
The newlyweds have taken up residence at Nsikonenne's home in Namasengere village, embracing their new roles as his wives.
Village chairperson, Emmanuel Owere, described Nsikonenne as a man with "rare qualities" and highlighted his four-year practice of traditional healing in the village.
READ ALSO: I murdered my husband by applying poison to my nipples: Woman
For Nsikonenne, marrying multiple women is a tradition in his family, influenced by his father, who had five wives. The seven brides, named Mariam, Madinah, Aisha, Zainabu, Fatuma, Rashida, and Musanyusa, have embraced their newfound status. Musanyusa, Nsikonenne's partner for seven years, now holds the position of his first wife.
Nsikonenne's unique marital journey sheds light on the cultural context that influences such unions, challenging societal norms and raising questions about the dynamics of polygamous relationships.